Build A Business, Not A Glorified Job With Aaron Scott Young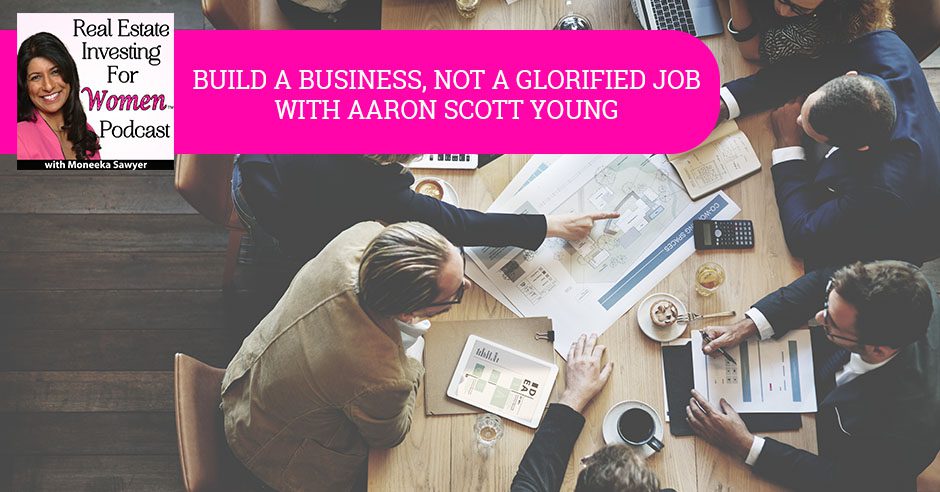 Are you building a business or a glorified job? At The Unshackled Owner, Aaron Scott Young asks this game-changing question to entrepreneurs as the first step to helping them build stronger businesses while proactively protecting their dreams. Fully embodying the concept himself, Aaron lives a truly successful and blissful life that few other people can model. Moneeka Sawyer brings him in on this episode to share snippets of entrepreneurial wisdom that will surely be of value to all women real estate investors out there. Have you taken a look lately at how you're approaching your business, whether you're in real estate or something else? Listen in and take away a cupful of sure-fire secrets to success – whatever that word means to you.
—
Listen to the podcast here
Build A Business, Not A Glorified Job With Aaron Scott Young
I am delighted to introduce you to Aaron Scott Young. Aaron is a renowned entrepreneur with more than 30 years of experience in several multi-million-dollar companies under his belt. Aaron has made it his life's work to arm business owners with success formulas that immediately provide exponential growth and protection. Fully embodying the concept of the unshackled business owner, he inspires others to do the same by empowering them to build strong companies while proactively protecting their dreams. This is what Aaron knows. When you have the right systems and culture in place, you can build a business that works for you, one that is optimized for cashflow, growth and progress.
A lifelong entrepreneur, trusted advisor to CEOs, outsource chief strategy officer and creator of The Unshackled Owner, a program for entrepreneurs looking to build a business, not just a glorified job, Aaron is armed with the expertise needed to quickly get to the heart of complex issues, identify solutions and eliminate the path to forward progress. His unique vantage point sets him apart from the crowd as a voice of real-world knowledge and authority. Aaron, welcome to the show. Ladies, I want to give you a little perspective on how I know Aaron. You all know Maureen. She's been on the show many times. She was like, "Moneeka, you got to get to know this guy, Aaron."
She did an introduction to us. He and I ended up connecting while he was driving horses across country because he invested in horses. There was something that I realized about Aaron. He runs a huge number of businesses. He's hugely successful and he lives his blissful lifestyle. There are few people that truly model that the way that Aaron does. I had to share him with you. What's funny about this is he's doing so many things we don't even know what to talk about. We're going to get this conversation going and see how it goes. I know no matter what we talk about, it's going to be great for you, ladies. Let's get this conversation going.
I'm excited to be here. It was funny that when that conversation first happened, I don't know where I was. It was a long trip. It was like 5,500 miles round trip from Washington State to Alabama and back. We covered sixteen states and bought four horses on that trip and brought them home. That was during one of the scariest times of COVID. A lot of people were very concerned that my wife and I were going to get in the truck and drive clear across the country and back and be in different situations and not know if there's an outbreak or something.
Here's what I noticed on that trip, which was so exciting. People were still going about their lives. They might've been amending things a little bit, might've been putting on their mask, but you can't stop the resilience of American business owners. We hear a lot of negative stuff, especially in a political period like we're in right now, where there's a lot of negative about businesses need to pay more and people making money need to pay more. Somehow, it's unfair to be successful. It's unjust in some way.
I watched these business owners like you and your readers who understand that the way we continue to be an entrepreneur, the way we continue to set the course of our own life is by not being damned or stopped by whatever's going on in the society. Our job is to adapt, to figure out how can we engage. It was exciting to see that all the way across the breadth of the United States to watch people in different states, with different rules, with different levels of concern, still figuring out a way, and that's what makes entrepreneurs so cool.
It's why I've loved dedicating my life ever since I was young like 25 to working with business owners. That's what we've been doing. I'm getting to be an old gray hair dude. That's been the joy of my business life. It's working with people that are business owners because they're interesting and cool. You certainly struck me that way on our first chat. I thought I can't wait to have this conversation. It was a little connection back to my drive, which was exciting. The horses are doing well, by the way.
I was going to ask about that next. This whole thing about entrepreneurs is we're all watching what's going on out there. Entrepreneurs are the heart blood. They're what create our economy. It's not big business. It's all of these entrepreneurs all the way from the mom-and-pop shop all the way to big business. This whole concept of money is evil or if you're too successful, that's because other people are suffering. There are bad apples. There are people that think that way, but there aren't a lot of us.
Being successful does not mean you're doing something that is to the detriment of others.
Click To Tweet
That's such a good point for my ladies to know because so much of creating success is our mindset. If you think success is evil deep down inside your head, you're never going to be successful because you don't want to be evil. It's important for us to understand that we are the economy. The business owner is the economy. We are what creates what's all wonderful and amazing in this world or in this country. We lead the world. Our success is paramount to the bliss of the country. Wouldn't you say?
The 86.3% of Gross Domestic Product or GDP is created by companies of 50 employees or less. That's all the main street shops. That's the person selling Tupperware. That's the person that is working in the coffee kiosk. That's the person who owns the landscape business. That's the person who owns the restaurant, the dental office, the title company, the realtors, the real estate investors. Almost all of the velocity of money, the movement of the money is by small business.
Eighty-three percent of all new jobs created were created by companies of 100 employees or less. You're getting into any number of manufacturing, jobs, office jobs, people like me who have dozens of white-collar medium paying jobs for the most part, people that are making $40,000 to $70,000 a year. I employ a bunch of people like that. These are companies of 100 employees or less. It is the lifeblood. Without it, we're in trouble. Thankfully, the government knows it. I don't want to be political because I'm not overly political in my way of dealing with the world. It is frustrating for me when I recognize that that politicians will create this divide of the worker and the boss.
Even if you're the CEO of a three-person company making $250,000 a year and you're taking home less than your employees, but because you're the one signing the check, they think you're more successful. It's a real shame to see the division that's created by trying to say the people that are owning the companies, that are employing people, the corporations, whatever the hell that is supposed to mean, they're somehow nefarious. They're cheating somehow.
It's not true. If you look at the most successful people, a great story is Mark Cuban, who's on the Shark Tank. He owns the Dallas Mavericks. He's a billionaire. He talks about when he was young building his business, he was paying his employees, but he had no money himself. He was couch surfing. He would go into McDonald's and he couldn't buy a cheeseburger. He'd get ketchup packages and squeeze them into his mouth to eat something.
During the recession back in '08, by the time it caught up with us in 2010, my business partner and I had to talk about do we do a massive layoff of people or do we take the hit? We get paid more than everybody else. He and I both took 80% pay cuts. We both ended up having to short sell our homes and move into rentals, but we didn't fire one employee. We knew that if we keep the employees together, that when the economy comes back, we'll be ready to receive and be on the front of the wave of growth.
That's how most business owners look at their business. They look at it as a stewardship, as a responsibility, not as some way to take advantage of other people. What do those employers do? They hire people. They pay for health insurance. We do matching on our 401(k). We give money to causes. We donate to charities. We give money to the food bank. We do a Toys-for-Tots drive at Christmas. We give a piano to an old folk's home. The people that are successful are usually successful because they've built a team around them and they know they have to feed the team before they feed themselves.
If there's a lot left over, they get to keep it. If there's not a lot leftover, they get to not eat. They get to eat ketchup while the employees get to eat whatever, even if it's macaroni and cheese. At least they're not squeezing ketchup packages. One of the first things we want to do as business owners and as entrepreneurs is get a healthy understanding of why it's okay to be successful. That being successful does not mean that you've done at the detriment of others. I was going to say that you've left people behind. You may have to leave people behind in your growth because they will not support you in your growth, but that does not mean that you've done anything wrong to them. It means that your relationships and your use of time has evolved to a different place.
I have a lot of very successful friends that are entrepreneurs. Every once in a while, we'll be in a conversation. Someone else will be at the table. They sold an app to Starbucks or they sold something. They have a lot of money. They're starting a new project and someone will say invariably to them, "Why are you starting another other company? You made all that money. Why aren't you going to retire?" The thing about entrepreneurs is that it's not about the money. They want to be successful so that they can sustain their vision. For most entrepreneurs, it's about what can I do in the world to make the world a better place? How can I create jobs? There've been so many times where I've been in a class and I'm like, "I don't know." I've heard people say, "I'm going to do this because look at how many jobs I can create." They end up with 50 businesses like you. They've got their whole structure of how they're going to run those businesses. The whole thing is about creating jobs and improving the lives of others.
Aaron Young's personal goal has nothing to do with anything specific to any one of my businesses. This is the thing that is my undergirding effort at this time of my life. I decided this a few years ago. I'm a big one about putting numbers and dates on stuff. I'm a real believer in doing that. I do that, but on this, you're going to know a very conspicuous absence of either of those things. I decided the best thing I can do with my professional life going forward, the rest of my life is to help more companies stay in business for more years making more money. Why do I say it that way?
I heard on the news that a 194-year-old company, a retailer called Lord & Taylor, has decided to close shop permanently. An almost 200-year-old company is closing down. The whole time I grew up, Kodak was a mega company, so was Sears and Roebuck and JCPenney and on and on. You could buy Pontiac cars. These things are gone. Sears and JCPenney are still there. They're both in bankruptcy and they're not going to make it. Kodak's gone. Pontiac's gone.
Companies don't last for forever, but if we can keep them in business for more years and making more money because of teaching best practices, keeping them up to date on what's going on in the law, in the IRS code, different ways of leveraging their businesses, what are the advantages of taking it on a different marketplace? If you're going to help them with that, they're going to hire more people. They're going to donate more money. They're going to pay more taxes that fix the roads, pay for the schools and all the things that make the community work.
I'm not going to say I'm going to help 1 billion people. I hear people say that crap. You know how much 1 billion is? There are seven billion people on the whole planet. The odds that you're going to get 1 in 7 of them is pretty damn low. I don't care if you're giving away free water. It's going to be hard to get to a seventh of the whole population of the world. If it's 10 or 100 or 100,000, I'm not hung up on it anymore. I'm going to keep pushing information out to help them survive a little longer, a little more successfully. That's what will keep that backbone of America, that lifeblood flowing, as you described at the beginning. That's what's going to keep it going. If we help people get another 2 or 3 steps into that dark tunnel of entrepreneurship, help illuminate a little bit more of their path, they'll survive longer. They'll survive more successfully and they'll spread the wealth.
That's the thing is they spread the wealth. That's the end game.
Even the people that the politicians gripe about and say they're not fair, if you think about it. I watched the thing the other day on Netflix or something about Jeff Bezos real estate. He's got these enormous homes all over the freaking place, big houses, big estates. I thought every one of those took people to build, people to maintain, people to do the yard, people to do the pool, people to come in and clean the house, people did protect him. A rich guy like Bezos not only is employing hundreds of thousands of individuals in their companies, Whole Foods, Amazon, The Washington Post, and so on, but even in their excess, even in their mansions, they've got a team. I'll guarantee you nobody's getting paid minimum wage to work behind the walls of Jeff Bezos' compound.
Everybody's vetted. Everybody's getting paid well. He wants you to keep your mouth shut about what you see around the house. These are good jobs, even for those unicorn individuals who go, "Look at their excessive lifestyle, they could pay more." I promise you, they're paying more like the entire neighborhood over here is paying. Even if their tax rates a little lower, they're paying a lot more money for all of these free programs, for all of these trillions of dollars of COVID bailout. People think, "The government saved us." The top 50% of wage earners are going to be paying that bill for a long time. The bottom 50% have taxes taken out and they get all their money back. The top 50%, especially the top 10%, pay almost all the tax. If you don't want rich people around, you're in deep trouble.
Money won't make you happy, but it will make you happier.
Click To Tweet
It's important to remember that successful people are the ones carrying the risk. Everybody that gets a paycheck assumes it's going to cash. Everybody, all of my employees twice a month assume that check will be good. Guess whose responsibility it is to make sure the check is good? It's me. I can have a nicer car, home, or I can have luxury pets like the horses that we breed and raised. I still have to make $500,000 payroll every month just for my internal team. Somehow that has to be accomplished and nobody else has the risk. There's only us, the owners that have the risk. It's good to have money. Ladies, don't be afraid of money.
It is good to have money. I am so with you on that.
Money won't make you happy, but money will make you happier. Money is a magnifier. If you're a jerk, it's going to make you a bigger jerk. If you're a kind, generous person, you're going to be more generous. If you're a builder, you're going to build more. If you're a hoarder, you're going to hoard more, but money will only magnify who you are. If you want to make a big dent in the world, make sure who you are as a human, and then go make a ton of money and you'll do good work.
That's the message of my entire show. I've got a huge range of ladies on the show. We've got people that are single moms trying to get by. We've got CEO women who have reached the top echelons of their companies and are like, "Is this it? I don't want to work this hard for the rest of my life." We've got all these ladies. Let's talk to them about how you define unshackled and how this applies to real life.
I started that program, The Unshackled Owner, a few years ago after I'd been at my beach house for almost two months. My wife and I were down there and hanging out. We're posting on social media and when you first go on a fun outing, people get excited for you, "Have fun, beautiful sunset, you guys look so happy." After a few weeks, they're like, "What are you doing? When are you heading back?" After a month, they're demanding answers.
I'm getting all this messaging because we'd already been to Europe for three weeks twice that year where I'd go speak for a couple of days and then we goofed around for a few weeks. That year was an interesting year leading up to June and July at the beach house. It was the first time it had ever even occurred to me that maybe other people didn't do things the way I did them. It wasn't that I was trying to create a course to go sell and make a bunch of money. Financially, I was great. I was golden. I didn't need to do it. I'd never even thought of teaching a course.
When I started responding back to people and talking to these small business owners, it became clear that things that I had learned through mentors, reading, life's challenges from the time I was nineteen because I started my first company with a payroll right before my nineteenth birthday. I ended up selling it and taking that money and starting another company when I was 23 or something like that. I learned these things, but it became clear to me a lot of other people hadn't. The reason I used unshackled and believe me, our marketing department freaked out when I use the word unshackled.
They hated that word. They said, "That's a negative word. That sounds like slavery. That sounds like bondage." I'm like, "That's what it feels like for a lot of people who own businesses." They feel like they work for the business. The business owns them. They went into this to achieve some financial or life freedom or abundance and instead they're locked in doing crud they hate doing. They hate balancing their checkbook. They hate doing the marketing. They don't want to do the sales. They want to make candles, but they don't want to sell them. Whatever it is, they were in bondage. I said, "I understand that you don't like the word unshackled, but that's because you're an employee, not an employer." The employer will get it.
I want you to know that that was the thing that completely ignited me on our conversation. It was that word, unshackled. What I want to highlight is there is such a big mindset difference between the employee and the owner.
The owners get in and they're working their tails off. What most people do is they start with a little tiny bit of money, or maybe no money. If you're doing real estate investment, maybe real estate sales here. Maybe scrapes somebody together, takes the real estate exam, pays for all their fees to have the little R on their business card. They don't have any money. They have to go out and have to get a listing. They've got to sell something or they take some of their retirement money out of a 401(k) or an IRA and self-direct it into their first rental house or first duplex or something.
They're hanging on by their fingernails. They're barely surviving. They're wondering, "What did I get myself into? Why did I do this? I've quit a job now or I'm letting my job slide while I'm trying to do my side hustle. What if I lose the job?" There's this very real stress becomes in that transition, that beginning. You get a little success. You make a few bucks. All of a sudden, you go from squeezing the ketchup packages into your mouth to being able to not pay that much attention when you go out to dinner. When you go to the grocery store, you can run your debit card and you don't worry about it cause there's enough money.
You're working ten-hour days. You're taking calls at 9:00 at night. You're doing things on the weekend and your revenue and your earnings are going up. Your lifestyle is improving, meaning your acquisitions, the place you live, the car you drive, the food you eat, maybe even sending your kids to a charter school or private school, that's all improving. Your life itself is going in the tank because the only way to make more money is to work more hours, more days. You say, "I cannot go on like this. I need to hire an assistant. I need to hire a bookkeeper. I need to hire," fill in the blanks. "I need some help in this particular area."
You get it here in your brain. You think, "If I hire a decent person to do that job and I have to pay them $3,000, $4,000 a month to start working for me or I'm going to pay this admin person $1,000 or $1,500 a month part time to work for me, that's coming out of my pocket. What element of my lifestyle is going to have to go down in order for me to make the risk of hiring this employee? I'm a little afraid to do that because I don't know about hiring people. I don't know about managing people. I don't know if they're going to steal from me. I don't know what's going to happen."
I don't know if they're going to do a good job.
Maybe they'll do a crummy job. How many people am I going to have to go through to get a good one? You get into this tug of war between, "I know I need help, but I don't dare risk the money. I don't want to move into a cheaper apartment. I don't want to get a different car. I don't want to take my kid out of that school. I don't want to give up on my yoga meditation retreat to Loom." They wait and they stay in startup mode and they become an absolute shackled slave, indentured servant, whatever, to their own success.
Plus, their success has as a ceiling because without a team of people, you can never do more than you can do. I don't care how gifted you are. You could only do what you can do. A lot of people who end up as a good employer, hiring good people, generating revenue, still get a lot of juice, get a lot of buzz because there's a line of people at their door knocking on the door, "Boss, can I get five minutes? Can you help me understand this? Can you help me close this? Can you talk to this person?"
Don't try to make money from your passion. Find something the market wants to buy and then get passionate about the results you deliver.
Click To Tweet
The owner's like, "I must be smart because looking at how everybody lines up outside my door and why would I want to teach everybody everything in my head because then they won't need me. They'll go off and do it themselves or what will I do?" A lot of people get stuck in that fear of who am I if I'm not the font of all wisdom and knowledge? These are characteristics of shackled people. Not everybody wants to be unshackled. Some people love the shackles. They love it.
Some people have a lifestyle business. They want to sit on the beach with their laptop and coach their clients or look at that list of bank properties or look at the tax lien companies. They want to do it. They don't want anybody else. They can make money. I was on the phone with a great friend. She has a lifestyle business. She makes about $500,000 a year. If she stops working, the revenue stops flowing. If she got sick or she broke her back, or she had to go take care of an ailing parent, she couldn't do her work and the revenue would slow down or go away. There's nothing wrong with it as long as you acknowledge that you are self-employed.
You're not an entrepreneur. You're not a business owner. You are self-employed. Self-employed is okay. Not everybody needs to be an entrepreneur. As a matter of fact, according to the data from 2018, the median income, that means there's as many below as above, not average, median income for entrepreneurs is $24,000 a year. It's a crappy job. You may not want to do that because you're probably going to be broke and stressed. Real entrepreneurs, somebody who's what I consider mentally-ill entrepreneur, is someone who cannot help it. It's like Tourette's, you are going to say something that you didn't want to say. You can't stop. It's a problem. If you don't have resources to do it, you end up becoming spread very thin on ten things that you think all of them might be the magic golden ticket. You end up broke and stressed.
Unshackled owner, which I'm not trying to pitch, but you asked me what I mean by it. Unshackled owner is about getting the pieces in place, the formula, or let's call it a recipe in place so you get the outcome that you want. The example I like to give is if I give you, Moneeka, a recipe for chocolate chip cookies. I give you the recipe. If you follow the recipe, do what I tell you to do, you're not going to get a bicycle or sourdough bread, or a tire. You're going to get chocolate chip cookies every time.
You may not make them the first time as well as I make them, but at least now you know the recipe. The more you work on the recipe and adjust to your altitude and put in the flavor, the little spice that you want, or I want to add walnuts or whatever you want to do, you can make it your own. At least if you follow a recipe, you will get a certain outcome. People have said, "How have you been a millionaire in recycling, cellular phones, barter, corporation, real estate, manufacturing?" How have I done it in all these different industries? How have I worked with hundreds and hundreds of people through this a few years in fertilizer, intellectual property law, publishing, and cosmetics? How? If you have the recipe, you will get the outcome.
There is no magic. There's a reason Richard Branson can be in records, airlines, space travel, tourism. There's a reason. There's a formula. There's a reason Steve Jobs made it in computers, telephones and animation. There's a reason because there's a formula. If you've learned the formula, you will get the result as long as your ingredients are good. People are always like, "Follow your bliss. Follow your passion," to which is say crap, that is not true. My passion is my wife, my grandchildren, our farm, the ranch where we raised the horses. This is where I'm passionate about. Horseback riding in the mountains. I did that. I went for five days to one mountain range. I was out for twelve hours in the deep backwoods riding horses. That's what I'm passionate about. Do I make any money from that? No. I lose money constantly on that. It's a money loser. Find something the market wants to buy and then get passionate about the results you deliver. That's magic.
Be passionate about how you fix things for people, solve problems, change lives. One of my companies, we do corporate minutes, minutes and resolutions. Every company that's LLC or corporation is required by law to hold regular board meetings, keep minutes, pass resolutions. Yet 95% of small businesses don't do it because there's only one shareholder, one board member, one officer, one employee. It's all the same person. It's them. They're like, "Why would I have to have a board meeting with myself? That's the stupidest thing I've ever heard."
The only reason to do it is because it's the law. It will never matter until you get caught not doing it and then everything you have will be wiped out. How dull are board minutes and resolutions? That is the most boring thing in the world. We do this for tens of thousands of companies, provide this service. It's dull as hell, but I had a guy stop me in a hotel. I was walking from the hotel to the convention center area. I was late. I was supposed to be backstage already. I was supposed to speak in like 30 minutes.
This guy all crippled up on those crutches that wrap around your biceps. He's all bent up and he's hobbling down this long, wide hotel convention center hallway. I was a keynoter. They had big banners of me up at this convention thing. I thought, "I hope this guy doesn't talk to me because I need to get backstage." That seems maybe a little stuck up except for that's what happens. There's only the two of us in this great big hall. We meet and he says, "Aaron, can I talk to you for a minute?" I don't know this guy from Adam. I said, "Sure, of course." I stopped and I'm trying so hard to focus on his eyes and not his broken body. I know he's aware of his physical condition. You know how it is sometimes hard not to stare.
He said, "I know you don't know me. I'm sure you don't recognize me although we met several years ago, but I'm one of your customers. I use your corporate veil protection service to do our minutes and resolutions." I said, "Thank you so much for trusting us to help you with your business. I'm so grateful for that." He's like, "Let me tell you something. I was in a bad car accident a couple of years ago and that's what happened to my body. I was in this horrific accident and I was at fault in the accident. Other people got very hurt. The insurance paid them, but it wasn't nearly enough. They sued us. They took our home. They took our beach house. They took our retirement. They took our furniture. They took everything, but they couldn't take our business because we'd separated it."
"We'd legally done the work, the minutes, the resolutions, the formalities so that the company was separate from the personal estate. I was able to rent a house and feed my family and take care of things." He said, "I want to say thank you that I'm still in business." I didn't mean to choke up but I get passionate about it. That's a great story. I went to in Indianapolis, Indiana for an all-black women entrepreneurs, it's called Sisterpreneur. I was the only white guy there speaking. I'd done it before. I come in to the cocktail party thing the evening before the whole thing is starting. This maybe 40-year-old, full of energy, full of pep woman comes up and, "Aaron," and she throws her arms around my neck and she hugs me. I'm like, "Who is this?"
She said, "I need to tell you something." I said, "What?" She goes, "I became your client like 3 or 4 years ago. Your team does a great job. Every time it was time to renew every year, I thought, 'Am I a sucker? Am I stupid? Is this real? Do I need to be doing minutes and resolutions?'" She goes, "Then I went and applied for a government contract as a double minority, a black woman. Guess what the very first thing they asked for? Three years of minutes and resolutions. The first requirement is am I acting like a real business before I can even get considered for this contract?" She said, "And I had them."
This is why it matters to do something that helps people in real world situations and then get passionate about the results you deliver. I can tell you stories about all kinds of different businesses that I am involved in, where by doing something that people need and want to buy when they know that it's available, by doing a great job, which isn't me. I stand in front of the team and say, "I go out and say this stuff from a stage in front of 100 or 1,000 people. You guys are the ones that keep me from being a liar when I say it from the stage. You're the ones who deliver the results that I get the hugs for and I get the handshakes for." It's the team.
The team is critical to being able to do things that make a difference in the world and becoming unshackled where you can let that crazy entrepreneurial brain go to work. Once you get this one going and you get a team in place, then they're following the recipe and now that's working. Now you can do this next thing and then this next thing. The idea is do one thing until it's working right before you start the second thing. Too many entrepreneurs try to do too many things and they do them badly. They do them badly, but they love telling their story.
They love the stories. It makes them in their poverty feel to sound cool at a networking event. I'm telling you get one thing dialed in working well with a team that understands how to operate. When that's working, go to the next thing. You asked me before we started this, do I want to talk about Laughlin Associates? Do I want to talk about structuring, entities and corporate compliance and all that stuff? I said, "We can. I own that company." Let me tell you, I haven't visited the company. We have all these people. We have all this stuff going on. I have not walked in the door of that company for three years.
You don't have to be there in order to have something that makes an enormous difference to tens and tens and tens of thousands of owners not even counting their employees, their families, the people that they buy from. Our ripple effect is big. You don't have to be there if the recipe is working. That's how you become wealthy, but also how you make a big difference is by getting stuff working, and then going to the next thing.
Don't let the things you want to accomplish in your life be limited because you're afraid that you're imperfect.
Click To Tweet
The thing that sets entrepreneurs, real entrepreneurs, the mentally crazy ones, the ones that Steve Jobs talked about, what'd he say, "Here's to the crazy ones." He's talking about Einstein and the Wright Brothers and Henry Ford. If you're one of the crazy ones, you have more ideas than you have ours. That means you've got to get a team together so that you can become unshackled from that project and begin the next one and the next one. When you have your parent diagnosed with Alzheimer's and you have to go take two years off to take care of your mother who doesn't remember who she is, you're still making money. You're still making a difference.
I have a hockey stick story of success. You can see from the time I was sixteen, I can tell you a story that looks like a fairy godmother was waving her wand over me all the time. It's a lie. It's not true because did I have success? Yes. Did I have failure? Yes. Did I go bankrupt when my wife was pregnant with our second child, nine months pregnant, sitting in bankruptcy court? Yes. Did I have a heart attack and have to have a bypass? Yes. Did I get sucked into a criminal action against one of our clients and ended up going to prison? Yes. I've had one challenge after another. The year I was in prison, my take home pay was $974,000. Sitting in a hospital, strung out on morphine for three weeks, trying to get over having my chest opened up and everything, still making millions of dollars.
It's a freaky story to me. Let me tell you, never talk to anyone without your lawyer. That was my mistake. They didn't ever say I did anything wrong. They said I knew or I should have known what this other company leader was doing tax-wise. How insane is that? We spent $2 million and 3.5 years fighting. Finally, I took a plea and got it over with. I spent fourteen months and one week in federal prison. My wife said, "At least I had money. Any problem that came up, I throw money at it." That's what happens when you build a real business. We came out of it. The day my wife picked me up from the prison door was the day the movers were moving us into a new 7,000-square foot custom home on six acres with a giant pond and this gorgeous home. I went from prison to this big, beautiful house. Why? It's when you build a real company, it doesn't require your presence. It's a terrible story, but it's a huge juxtaposition of what I was doing with my day to day. What was happening with our business interests?
It's not magic. I had a 1.9 GPA in high school. I went to one year of junior college. I started my first business that Christmas during that only year of junior college. I got married at 22, had four kids. My wife was a stay-at-home mom. My parents and her parents had no money. I never borrowed money. I never took investor money. I bootstrapped everything. This is not magic or silver spoon. The one thing that my wife pointed out to me, smacked me upside the head years ago and said, "Here's the one thing that you forget about yourself." I will admit this one side because I didn't know it. It took somebody else saying it to me. She did say, "You tell me that everybody should be able to pull themselves up by the bootstraps. You came from nothing. Everybody can do it. No, that's crap. You're a white man in the United States of America. Your parents stayed married. You grew up in a church community that supported you. You had people that told you, you were smart, that you were capable."
That's an advantage. You've talked about mindset multiple times in this conversation. When your mindset is somebody's going to do it, why not me? If that's your mindset, you can do anything. If your mindset is, "I'm not white. I'm not a man. I'm divorced. I'm a single parent. I don't have any money. I don't have anybody to turn to." If your attitude is everything's wrong, everything's against me, that's how you'll live your whole life. You'll always be a victim. You'll always have an excuse. You can leverage the heck out of those excuses.
You can leverage it like crazy and say, "It's not my fault. It's everything around me is fault." If so, then you deserve what you get. I feel inspired to share a poem off top of my head. It popped in my head and I it's for something that I said. The poem and I hope I get it all right. It says, "I bargained with life for a penny and life would pay no more. However, I begged at evening while counting my scanty store. For life is the just employer. It will give you what you ask, but once you've set the wages, why you must bear the task. I worked for a menial's hire only to learn dismayed, any price I had asked the life, life would have willingly paid."
"You get what you believe you're going to get. You accomplish what you believe is possible to accomplish. You will simmer in your own stew of excuses and regrets if that's what you choose to do." The most successful people I've ever met and I know I can tick off people that are my friends who've done things, founder of WebMD, founder of Make-A-Wish Foundation, founder of UGG Boots, founder of Teladoc. I can keep going on and on. These are my friends. Every one of them has had things that could have been used as the excuse for why they couldn't be successful. All of them thought someone's going to do this. Why shouldn't it be me? All of them put the acknowledged challenges said, "Yes, that's true, but that doesn't define my future. That's where I'm starting from. That's the launch pad. We can do what we want."
There is endless unrestricted room at the top. There is room for people who are successful always. There isn't a limited number of seats. Everybody can be there. They have to make a choice. Success can be financial success. It can be relationship success. It can be health success. It can be number of jobs you've created, number of ladles of soup at a soup kitchen you've distributed. It's however you define your own success. Just don't let the things you want to accomplish in your life. Be limited because you're afraid that you're imperfect or that things aren't perfectly organized.
You don't have the perfect website. You don't have the perfect body. You don't have the perfect bank account. You don't have the perfect speech member. Moses was slow of speech. He had to have his brother, Aaron, do the talking. Clearly, I'm a benefactor of that talking. Moses was an old man who stuttered, who struggled, who was now an outcast from Egypt. He still went in and changed the world as we know. All the major religions acknowledged Moses and what he did. Whether you're Christian, Jewish or Muslim, everybody looks at Moses and this unbelievable accomplishment of moving these people and building this kingdom. He established something in the name of their God, against all the odds, including the largest, most powerful government in the world.
You can do what you want to do if you decide to do it, and you decide to learn how the heck to do it. I meet so many people that say, "I've got this idea and I believe it will be a $50 million idea three years now. I need your help." I'll say, "How much revenue do you have now?" They say, "I'm making $1,800 a month." I said, "You're going to be $50 million in three years. Yes. Why do you believe that? That's stupid. You're insane."
How are we going to get you from $1,500 a month to $5,000 a month? How are we going to get from $5,000 to $20,000? How are we going to build a real business? Not how are you going to sit there with your Excel spreadsheet or your calculator and dream big dreams based on nothing real. If you learn how to do the work, you never have to lie, cheat or steal. You can learn to do the work and you will get the result. People that are reading this I assume are seeking that input in their lives to not think they can do it alone.
The old proverb says, "If you want to go fast, go alone. If you want to go far, go together." You can be a flash in the pan. You can make a couple of bucks now, or you can build something real that will sustain you. As you have other things that come up in your life or other opportunities that you want to take on or other responsibilities, you cannot shirk. You can be the person that seems to have it all if you decide to go with a team to do something the market wants and you learn how to do it and follow the formula, you'll be successful.
Thank you so much for that. Ladies, this is something that we talk about a lot on this show is this whole networking thing. Real estate is a people business. The numbers have to work, but it's a people business. Life is a people business who you hang out with, who you have the conversations with will expand your mind, your life, your business. It will expand to everything. Aaron is one of those people that came to this show with a lot to share and expanded our mind. These are the sorts of people that you want to have in your life when you're out there spending time with people, spend time with people that expand you that have a conversation with you, that your eyes are wide open.
You're like, "I didn't know that." It's such a big piece of success is who are we hanging out with? Who are we having conversations with? Who are we inspiring to work for us, with us as partners, employees, vendors in our business, our tenants? My tenants are my biggest source of income. They're my biggest business partners or my biggest clients are the most important people in my life. Not my contractors, not my vendors, my tenants. It's because of that, that my relationships with them are a big deal. I network around that. Who are you spending time with? This has been amazing, Aaron, getting to spend some time with you.
It's been my pleasure and thanks for letting me talk to your people. The goal is to help more people stay in business for more years, making more money. If this helped one little person in one little way, then was time well spent.
Thank you so much. Aaron and I are going to do an Extra, Ladies. We're going to be talking about, when you're shooting for those goals, why? I want a lot of money so that I can make a big impact on the world. Does that pull your heart forward? There has to be a why. You have to be able to tell when you reach that goal that you've been shooting for, for so long. There's gratification in that. It's also someplace to go to. It pulls us forward. Aaron and I are going to be talking about that in Extra. If you are not subscribed to Extra, but would like to be, go to RealEstateInvestingForWomenExtra.com. You get seven days for free. You can download a ton of stuff, get some great content and then you get to stay subscribed. If you're already subscribed, stay tuned, we've got some amazing stuff coming for you. If you're leaving us now, thank you so much for joining Aaron and I for this portion of the show. I appreciate you. I look forward to seeing you next time. Until then, remember goals without action are dreams. Get out there, take action and create the life your heart deeply desires. I'll see you soon.
Important Links
About Aaron Scott Young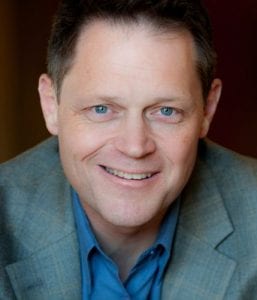 Aaron Scott Young is a renowned entrepreneur with more than 30 years experience and several multi-million dollar companies under his belt.
Aaron has made it his life's work to arm business owners with success formulas that immediately provide exponential growth and protection.
Fully embodying the concept of the unshackled business owner, he inspires others to do the same by empowering them to build strong companies while proactively protecting their dreams.
Love the show? Subscribe, rate, review, and share!
Join the Real Estate Investing for Women Community today:>
——————————————————
To listen to the EXTRA portion of this show go to RealEstateInvestingForWomenExtra.com
To see this program in the video:
Search on Roku for Real Estate Investing 4 Women or go to this link: https://blissfulinvestor.com/biroku
On YouTube go to Real Estate Investing for Women
Moneeka Sawyer is often described as one of the most blissful people you will ever meet.   She has been investing in Real Estate for over 20 years, so has been through all the different cycles of the market.  Still, she has turned $10,000 into over $5,000,000, working only 5-10 hours per MONTH with very little stress.
While building her multi-million dollar business, she has traveled to over 55 countries, dances every single day, supports causes that are important to her, and spends lots of time with her husband of over 20 years.
She is the international best-selling author of the multiple award-winning books "Choose Bliss: The Power and Practice of Joy and Contentment" and "Real Estate Investing for Women: Expert Conversations to Increase Wealth and Happiness the Blissful Way."
Moneeka has been featured on stages including Carnegie Hall and Nasdaq, radio, podcasts such as Achieve Your Goals with Hal Elrod,  and TV stations including ABC, CBS, FOX, and the CW, impacting over 150 million people.