Connect To Your Inner Feminine To Create Fulfilling Success With Stacy Bahrenfuss – Real Estate Women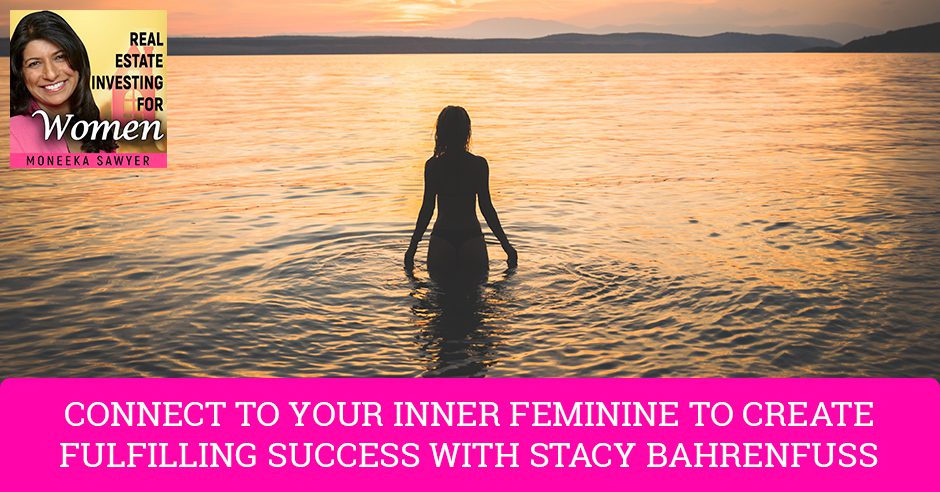 Connection is the missing piece to whole life success. It can mean many things, but most importantly, it means connecting with your source, your inner state, your inner feminine. It's not that hard to reconnect with it. It's just the fact that so few among us have done it that it looks difficult when really, it's not. Real estate investor and life coach, Stacy Bahrenfuss joins Moneeka Sawyer today to show you just how simple it can be. With just a few steps, Stacy can guide you to connect with your source, nurture a blissful inner state, and allow it to lead the way to success and fulfillment. Join in to learn how you can do this at home! And don't forget to rejoin them on Extra, where Stacy throws in even more valuable wisdom!
—
Listen to the podcast here
Connect To Your Inner Feminine To Create Fulfilling Success With Stacy Bahrenfuss – Real Estate Women
Real Estate Investing For Women
I am so excited to welcome to our show, Stacy Bahrenfuss. Stacy is the Founder of the Catalyst Group and creator of the Inside Out Success Method, a system at the core of her premier consulting program for female change-makers, the Limitless with Stacy B. Stacy started Catalyst Group, her real estate company, at the age of 19. She sustained her company through the housing crisis of 2007 to 2010. She continues to scale her business beyond the seven-figure mark to become one of the top-performing real estate teams in the state of Idaho. Stacy's experience is vast. She has been a single agent, has run a large team, and has even operated as the designated broker for Catalyst Group as a brokerage. She has personally funded and sold a development project consisting of eleven upper-tier new luxury homes while still operating her real estate team at the Catalyst. Her success in the real estate world has given her a vehicle to share her mission, vision and purpose. Now she guides female global change-makers to discover inner freedom and fulfillment to create lasting success from a beautiful inner state to achieve the change and results they wish to see in the world. How are you?
I am great. Thank you so much for having me.
You've done a lot of stuff. It's interesting when I looked at your bio or looked at your questions, I knew that so much of what you do is mindset stuff, which is key to success. I didn't realize initially how involved in real estate you are. This is fantastic. I'm excited how relevant this is going to be. 
I'm very excited too. The merge between both is so vital for a successful real estate business.
Most of the people that come on board to talk on the show about mindset might have a little bit of investing experience, but not to the depth that you have. This is amazing. Why don't you start by giving us a little bit of your story, the two-minute version? 
It all started when I was a senior in high school. I was joking around with a few of my friends and we had heard about a local real estate office near a resort town that I lived in that was going to be opening. I said, "I'm going to apply as a salesperson." I was seventeen at the time. They ended up calling me and hiring me as the sales coordinator's assistant. I worked part-time and did that, and finished high school at that time. I knew right away that this was my career path to get into real estate.
I saw a gap that I could fill, which was the consumer experience and the way that I was seeing agents at that time. It was 2004, 2005, things were booming and going crazy. I saw a gap that I could fill to improve the industry. I got started at that point and then got licensed when I was 19 because I knew I wanted to be the change. I started my career at that point and then started building my team five years later in 2011. Everything I've done, I've done it intentionally to be able to simplify things so that I can share with others, that they too can do whatever it is they want to do in the real estate business or beyond the real estate business.
I say the same thing in all of my stuff, but you say that you can have success without stress. Let's talk a little bit about that. I'll give you a little background on me too. I talk a lot about bliss, and bliss is about creating systems, a business or a life that has very little stress and is filled with joy through the whole process. I feel like we're aligned with that. Talk to me a little bit about building success without stress. 
Your methodology and your mission are what I was very excited about, meeting you and coming on your show for all of those reasons you listed because we're much in alignment. For me, succeeding without stress is different than taking an intense breathing exercise to raise the stress in the body, to be able to perform at a higher level. That's a different type of stress. The stress I'm talking about is that inner state of suffering that no matter what's going on externally, it could be a different situation. You're still feeling that same thing, that same feeling.
Succeeding without stress means going to the root of whatever the issue is internally, and being willing to courageously look at things that may be whether it's a pain or hurt or something that happened in your past. That is the trigger that keeps being activated by these external situations. When you do that and you start to clear things, it's like the drain. Seeing your truth is like the drain pouring down to clear things. When you can do that, you're able to succeed at such a different level because you're clear and calm inside. You're able to make more clear and powerful decisions. You don't have to work as hard with so much push. It's more of the flow.
You have a specific methodology for this. Is that true?
That is true.
Could you tell us a little about that?
The methodology is going to the root of whatever is going on as I explained briefly, identifying whatever that thing is. A key one is looking at relationships in your life that may be a soft spot or a pain point, and seeing how you contribute to that pain. It's so easy for us to blame others. If we can start to look at situations, if we're frustrated or feeling pain in some way, to ask ourselves, how are we contributing to that situation? The game changes at that point. That's what that methodology is all about. It's not only taking your power back, but taking your power back by taking responsibility for your life completely. In doing so, you're able to look at things differently so that you can perform at a higher level.
That methodology is first to see the truth and to see that pain, but not to stop there. What you need to do then is build that vision for your life and understand what you're seeking. Once you are successful at this level, then you'll be happy. We've all heard that. To understand what the emotions are, I always say it's like a vending machine in a way that is already within you. You just need to select. "I want to be happy. If I succeed at this level, I'll be happy." Changing that and seeing that you can get the happiness out of the vending machine now without going after that. Therefore that might change your pursuits and what you're trying to achieve. The methodology breaks that down so that can come into focus.
I still love what you're talking about around there's a way that we are taught in the world to create our happiness. We pursue this. Once we achieve that, we will be happy. There are all these people out there saying, "Happiness is an inside job and you should be," or whatever. We're all trained to go after the things that are going to make us happy, whether it's business success, a boyfriend, a girlfriend, a car, a house, or whatever it is. We're going after those things that we think they'll make us happy. What's interesting is that for those people who have gone after those things and gotten those things, you realize that, "That didn't make me happier." Who you are on the inside is what you take to that final result. You'll never be happy then if you can't be happy now. There will always be a feeling of discontent. Turning our training in the way that we've been culturally brought up on its head, starting with the happy feeling, and then determining our pursuits from who we are on the inside, rather than what we think is going to make us happy, can completely change the trajectory of our life. 
You can either be fueled by a blissful inner state a fearful inner state. There isn't any other option.
Click To Tweet
Also to your point of turning it on its head, a lot of people go, "If I start with happiness first inside, I'm truly discontent." The response to that is, "Exactly, you need to see first that you're discontent." That is the truth. If you stop trying to escape that and see it for what it is, that is when you can make room for the formula to become happy first. You first have to see the truth instead of resisting the discontent.
I love that. I use the term bliss rather than happy. It's a deeper emotional content. One of my coaches specifically said to me, "I don't want to be blissful because then I'll lose all my motivation." I was completely shocked by that. I don't know if you've ever heard this yourself, Stacy, "I don't want to be happy because then, why would I work hard?" The thing is that when you're content, you tend to work harder because your dreams are bigger. They're based more on you rather than some outside force telling you what you should be. When it's based on you, your drive is significantly bigger. Your passion is bigger. Your want to achieve becomes bigger. That's also counterintuitive. When you're happier, you will achieve more because of your capacity to dream. Would you agree with me on that? 
Absolutely 150%. It is stemming from you either can be fueled by a blissful inner state as you describe it or a fearful inner state. There isn't another option. You can call it different things, those are the core options. When you are coming from a fearful state, it's not going to be sustainable and you have to work extra hard to get the same result. When you're fueled by bliss or that beautiful state, it's a natural passion, a natural motivation that rises. It's not a contrived motivation that you have to create if you're coming from suffering.
You talk a lot about inner states. Bliss from my perspective is the ultimate inner state, but we have many of those. Your methodology is based on inner states, how to distinguish them, how to utilize your inner states, and distinguishing them for success. Talk to me a little bit about how that works in your methodology.  
As we were talking about, there are two options of the inner state. The first part is looking at resistance first, and any disconnect or discontent, any uncomfortable inner vibe or feeling that you're experiencing. Although it may seem like something you have to overcome, it's the biggest gift because it's come to show you the way. What I mean by that is if you're willing to dig into that to clear up at inner state, you're going to see how to clear that at such a deep level that you no longer are struggling with that anymore. The importance of that is things you create will become more sustainable and your relationships are going to improve. It's not only that but also your presence. We all want more confidence. We all want to play full out. All of these terms of let's go to that next level. Truly what happens, and that's why I call it limitless, is when you are willing to get in touch with the resistance, the disconnect, and the discontent within you, and dig into what that is and stop resisting it, your next level is limitless because you're not bogged down by those negative emotions.
It's so interesting because as humans, we only have so many hours in the day, and we only have so much energy to expend. If we're expending our energy on trying to keep ourselves lifted up because we have to fight the anchors that are pulling us down, that's an energy drain that we cannot use in other ways. We cannot use them to create freedom, success and love. We're using them to fight anger and to carry that around. When we're able to release those inner states of fear or whatever, then we release a lot of energy to focus on the things that we want. The one thing I strongly believe, I'd love to hear your feedback on this, is all of our emotions teach us something. They show us where the discontent is.
I believe that we have a right to all of those feelings. If we're angry, in despair, having a bad day, or if someone died, we're having a bad month, we have a right to all of those emotions, but we don't have to live in those emotions. What I say is honor them, feel them, live in them for a little while, but don't make them your home. You want to make your home those inner states that support your joy, success, and freedom. Do you agree with me on that? 
I do, and to go into a little more detail of my thoughts on it is especially as women, we are told what it means to be a good girl. We're taught that a good girl doesn't show if she's upset. That's part of the problem why both men and women have difficulty not making it their emotional home because we're taught so much in society that, "You don't feel it. Who has time for that? Put it in this file over here." That is that heavy shackle on us that doesn't allow us to create a new emotional home. If we can just see it, allow it, feel it, and sometimes you don't even know how to feel it because we're so ingrained to escape, distract ourselves, go over here. The problem is that the monster keeps getting bigger and bigger, and it starts to bring all of its friends. I agree with you.
Tell us a little bit about the Triple Threat System.  
The Triple Threat System is something I use every day, and something that I contribute much of my success to because it's given me that foundation. In many ways, a quick process to go through if time is short or if I have all the time in the world. It's very versatile in that way. There are three steps, thus the name Triple Threat System. The first step is to take three conscious breaths. When I say conscious breaths, I mean to set a timer on your phone for three minutes and take deep inhalations, and try to make your exhalations longer. If you can, double the count of the first inhalation. It would be breathing in deep for two counts. You count in your mind and then exhale for four. That would be double. Do that for three minutes. That's step one of the Triple Threat System. Once you do that, what you've done is you've created very calm soil to then plant what the contents are of step two, which is to write down three things you're grateful for.
Sometimes it's like, "I don't know what I can come up with." Think about the last 24 hours. Think about simple things that you're grateful for like you could brush your teeth this morning, that you can walk down the hallway. Sometimes the simpler, the better to start because our mind is conditioned to look for what's wrong. When you can start the day with that calm first step of a clear mind, that first batch of seeds that you plant are those of gratitude, then it's a prime foundation to go into step three, which is focusing on your short and long-term goals. My three short three long-term goals. What that does is it sets you up for the day. It prepares you no matter what comes your way. It also keeps your short and long-term goals front of mind. What I love about that is, we need to constantly be asking ourselves if my vision is current.
When you're that in touch with short and long-term goals, you're able to adjust as life evolves. You could be in the middle of a pursuit of a goal and decide that, "This isn't what I want anymore," and change course. That's the Triple Threat System. You can do it in ten minutes. You could also stretch it out to 30 if you want to do a little bit longer breathing. What I love about it is that no matter how much time you have, it's very adaptable.
I love how simple it is. I want to say, ladies, so much of the time when I talk to you, one of the questions that I get, or one of the comments that I get a lot of is, "I don't have a lot of time and I want easy systems to be able to fit into a little bit of a time that I've got." If I give an easy system, something like the Triple Threat that's very simplified. We've all heard a lot of these components in different shows and different places. You're like, "That's too simple. I've heard that before. I need something that's going to be a little bit more effective than that." You're not alone, ladies, if you've had those thoughts. I've had those thoughts too. 
The thing is that until you try it and implement it for a significant period of time, and I'm talking like a month, you're not going to know what the results are. Just because it's simple does not mean that it's not powerful. The simpler it is, the more implementable it is, the more powerful it is. You do need to do it. You have to take action. We talk about action all the time. You have to do it and give it a chance to work. I want to say that I love this. We've had a lot of people come onto the show and talk about morning routines. I've talked about morning routines, but Stacy is giving you something super easy and super implementable. 
You can do it in five minutes, or you can do it in 30 minutes, and just because it's simple does not mean that it's not powerful. I would encourage you to write down her three steps, and then implement them into your life for the next 30 days to see if they work for you. Everybody is different. Different things work for each of us in different ways. You might want to change your route. You might want to implement it a little bit differently but first, you try it her way. I love how simplified that says, so thank you for that, Stacy.  
One thing that I do too is I look at this as that foundation. I said that multiple times. What's great about it is that it's very easy to add an accessory to it. Maybe you want to work on another aspect. Keeping that in mind is something that I'll do when time is allotted. I like to have that go-to. If I can find ten minutes anywhere, no matter how crazy the day is, it's nice to have that go-to no matter what.
Inner connection is the missing ingredient to whole life success.
Click To Tweet
We're going to talk more about how she fits this into her life and the actual implementation of this into her life. I'm excited about that in EXTRA. Let's talk a little bit about EXTRA. We're going to talk more about the Triple Threat System. We're also going to talk specifically more about real estate. One of the things that Stacy and I talked about before was when people see a property online, they think it looks like a good deal, but it's important that we go through the numbers. We take a look at, is it a good deal on the balance sheet? I always say to you, ladies, that our business in real estate investing is a people business, but the numbers have to work for us to get to the people part. Stacy is going to go through in EXTRA how to validate a property if you think it's a great deal, how do you go through and make sure that it is? Those are the couple of things we're going to be talking about in EXTRA. Do you want to add anything, Stacy? 
I'm very excited about both of those. I didn't talk about this in the pre-show, but I do have a special tool that I'm going to share with you to share with your EXTRA people that helps validate that investment at a deeper level. It's a simple Excel spreadsheet that works every time. That's my gift to you.
That's for the EXTRA portion of the show. We've talked a lot about being limitless, inner states, and all of that stuff. What would you say is the missing ingredient for a whole life success?
Much of it is related to what we've talked about that we've lost that connection. The missing piece is connection. It sounds very simple, but it's profound. We're in a society, in a world that's more connected than ever technology-wise, but leaving us feeling more disconnected than ever. The missing ingredient being connection, it means first and foremost, connecting to yourself and being able to utilize that not just in the personal development side of things. What we've talked about thus far, but also connecting to yourself when you have a gut feeling about something, analyzing your business. Connecting to your source is also what I mean. That is that missing ingredient to a whole life success. When you understand that you no longer have to rely on external feedback to justify how you're feeling or your thoughts about something, the power goes from 5 to 50, as far as that. It's an immediate increase in your ability to take action, follow through, and achieve your goals.
Thank you so much for that. It is true and even the client relationships or tenant relationships we fail, and I fall into this. I'm a little bit surprised to watch myself sometimes because I feel like the relationships in my life are everything. Those are the things that have been the reason for my success. Even then, there's an awful lot of texting that happens. That could be a phone call that creates a connection or a visit to the house or something like that. Communication has become so easy that it's allowing us to not make it a priority or not give it the attention it deserves. 
One thing that we're implementing within the team is the rule that a connection is not an email or text. It's only a phone call, and that it's an adjustment. It's a reminder to be more mindful of more than anything. People are craving for connection right now. That alone can be your differentiator, by reaching out instead of doing what everyone else is doing, which is relying on technology.
Could you tell everybody how they can meet you? 
Yes. Because my last name is so challenging to say, everyone calls me Stacy B. My website is the best way to get in touch with me. That is LimitlessWithStacyB.com.
Are you ready for the three rapid-fire questions?
Yes, I was born ready.
Could you tell us one super tip on getting started investing in real estate?
The biggest thing is to do the homework and the research. What I mean by that is go and connect with a lender because a lot of times, we let the lack of knowledge in something hold us back. We think that we need to wait until we do X, Y, or Z. I can't tell you how many times I have experienced and clients might have experienced going and doing that research, getting different opinions on the lending side has opened up an opportunity to take action on an investment property. The biggest thing is if you are interested in real estate, get in touch with a professional, a mortgage professional, or a real estate professional that you know because you would be surprised at how empowered you can be so quickly. Let's say you can't get the loan, or it's not a good time. You can make a very aggressive plan to prepare for whatever it is you need to complete to be able to qualify.
What would you say is one strategy on being successful in real estate investing? 
The biggest strategy is to go for it. The only thing that a seller or someone else can say is no if they don't accept your offer. Don't be afraid to make ten different offers. Throw that net out to see who bites, depending on the product. That's one way, but another way is don't be afraid to pursue a property. Although it doesn't happen as much right now, it will happen again. If it is overpriced, going in $50,000, $100,000 low with the justification of how you arrived at those numbers. All they can say is no. I've had so many times where they came down to almost the price that we offered. The biggest thing is to pursue it and don't be afraid of that rejection.
What would you say is one daily practice that contributes to your personal success?
It's my morning routine. With that though, it's that Triple Threat System and it's also incorporating at least ten minutes of reading my workouts, and my time with my Earl Grey tea, which is my favorite beverage.
Stacy, this has been so much fun. Thank you so much for everything you've offered on this portion of the show.
Thank you so much for the opportunity. It's been a pleasure.
Ladies, thank you for joining Stacy for this portion of the show. If you're not subscribed to EXTRA but would like to be, you can go to RealEstateInvestingForWomenEXTRA.com, and you get the first seven days for free. You can get this EXTRA. You can get a ton of other EXTRAs. I've got more than 50 up there, so you can binge on those and see if it's for you. If you want to stay subscribed, you can. If not, you've got a lot of good content so check it out. Thank you so much for joining us. You know how much I appreciate you. I look forward to seeing you next time and until then, remember, goals without action are just dreams. Get out there, take action, and create a life your heart deeply desires. I'll see you soon.
Important Links
About Stacy Bahrenfuss
Stacy is the owner of a 7-figure real estate company, and Founder of The Truth Teachers™ and Ultimate Breakthrough Accelerator™. Her programs consist of intuitive 1:1 consulting, group coaching, and an exclusive certification program.
Stacy began her entrepreneurial journey in the real estate industry at the early age of 19, sustained through the housing crisis of 2007-2010, and continued to build the business to be a 7-figure operation and one of the top real estate teams in the state of Idaho.
In 2018, Stacy personally funded and sold a development project consisting of 11 upper-tier luxury homes while still operating her real estate team. Her husband runs the operations of the real estate team today, while Stacy resides in an Advisory role.
Stacy is on a mission to smash the shackles of suffering by shining a light on the truth so that her clients can achieve everything they want. Her programs serve as a catalyst for deep inner transformation to create lasting whole life success, and how to do it all from a limitless, beautiful inner state.
Stacy is a recipient of a 2020 Gold Stevie Award in Consumer services with 10 or less employees.
Love the show? Subscribe, rate, review, and share!
Join the Real Estate Investing for Women Community today:
______________________________________
To listen to the EXTRA portion of this show go to RealEstateInvestingForWomenExtra.com
To see this program in video:
Search on Roku for Real Estate Investing 4 Women or go to this link: https://blissfulinvestor.com/biroku
On YouTube go to Real Estate Investing for Women
Moneeka Sawyer is often described as one of the most blissful people you will ever meet.   She has been investing in Real Estate for over 20 years, so has been through all the different cycles of the market.  Still, she has turned $10,000 into over $5,000,000, working only 5-10 hours per MONTH with very little stress.
While building her multi-million dollar business, she has traveled to over 55 countries, dances every single day, supports causes that are important to her, and spends lots of time with her husband of over 20 years.
She is the international best-selling author of the multiple award-winning books "Choose Bliss: The Power and Practice of Joy and Contentment" and "Real Estate Investing for Women: Expert Conversations to Increase Wealth and Happiness the Blissful Way."
Moneeka has been featured on stages including Carnegie Hall and Nasdaq, radio, podcasts such as Achieve Your Goals with Hal Elrod,  and TV stations including ABC, CBS, FOX, and the CW, impacting over 150 million people.