Excel At Short Term Rental Advertising With Mike Denman – Real Estate For Women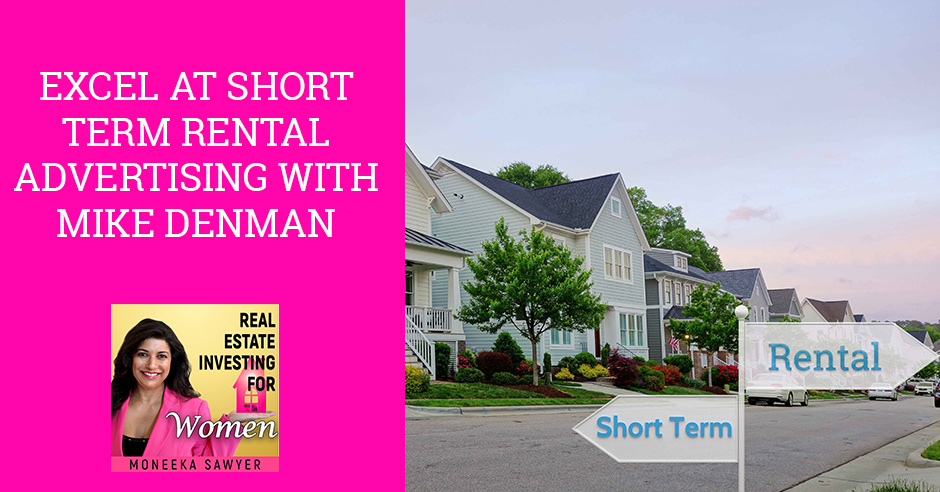 Investing in short-term rental advertising could be a game-changer for your real estate business. In this episode, Moneeka Sawyer sits with Mike Denman, CEO of Better Than Awesome, to discuss the exponential benefits of using social media ads to reach more people and get more bookings for your business. Mike shares his start in real estate and short-term rentals, sharing how he gained massive ROI by investing just a few short dollars in an advertisement. Throughout the years, Mike has observed the evolution of how ads can and should be used in social media. Listen to hear about tips and tricks on setting up a system that leaves you stress-free and income-rich. Stay tuned!
—
Watch the episode here
Listen to the podcast here
Excel At Short Term Rental Advertising With Mike Denman – Real Estate For Women
Real Estate Investing For Women
I am excited to welcome to the show, Mike Denman. Mike is an award-winning filmmaker based out of Colorado who has worked in marketing and advertising for video games since 2011 and real estate since 2015. He has been at the forefront of technological advancements in connecting people to content through the internet via apps like Instagram, Facebook, Pinterest, YouTube, and too many others to mention.
He launched STRAdvertising.com in 2022 to help educate real estate investors on the power of advertising. Adapting his real estate advertising tactics to encourage higher amounts of web traffic to short-term rental listings was possible due to his years of iterating on the process. He has been a real estate investor for a couple of years. Mike, how are you?
I'm good. Thank you for having me, Moneeka. I am very honored to be here on your show.
I'm happy to have you. Ladies, you've met Mike before. I played a panel that I did with Mike and Laura Powers. That's how I met Mike. You've already read his great advice on real estate investing, and through that conversation, I realized he had so much more to offer you. I wanted to have them on the show. Mike, thank you for joining us again. This is going to be awesome.
I'm very excited. Honestly, after meeting a lot of these other real estate investors, I'm like, "There's a lot of people out there. They almost know all the things and need a little bit of help and guidance to be able to see some of that success," especially with a lot of the short-term rental investors that I work with directly. That's where I'm buying most of the actual level of information flows that are not there. I'm like, "This has got to be something that we help people with." I'm happy to help people learn how to do that stuff. It's going to compete with the big boys.
You said it in the panel before but remind my audience, why did you choose short-term rentals?
This is completely not even me choosing it in the first place. My partner, Patricia, she's an incredible real estate investor. When we first started doing real estate investing, we were renting out a room in our house and even Airbnb-ed our master bedroom to see what that would do. We were even able to get two different people to rent from us at the same time. We are sleeping in kids' rooms with all those Schell Games moving around.
When Patricia and I started investing in property, we were doing long-term rentals. Here in Colorado, the market was challenging for rents. In 2021, we were assessing what our cashflow was. We were getting $400 a month, maybe getting out of the long-term rentals, charging thousands of dollars in rent even for these places. We are like, "Let's make an assessment." I did a bunch of spreadsheets mapped over many years. I was like, "If we sell it, what could we do with equity? Do we buy a bunch of long-term rentals?"
Patricia ended up reading Avery Carl's book, Short-Term Rental, Long-Term Wealth. She was like, "I've got to do these short-term rental things, and this is a whole new way of approaching it," and I was like, "That sounds great." I didn't even think too much about it after that. I was like, "Cool." We started doing the whole real estate selling and getting the properties done. Through the appreciation game, we had like $250,000 to work with. We were able to 1031 exchange into some short-term rentals.
As Patricia was going through and finding different properties, she found this beach property that was in Texas in Crystal Beach that was put onto the market. Someone had looked at it. Our real estate agent is like, "You guys should check this out." It was a gorgeous place. It was $925,000 and was on the beach. We are like, "This is crazy amounts of money." Our own house that we live in is not even that much money. It's valued at $660,000, but we bought it for $420,000. It was a different time. The appreciation in Colorado has been nice, so it's been helpful.
For the short-term rental selection process, Patricia did AirDNA to see how well the prospective comparable properties are going to do in terms of how much revenue they bring in through Airbnb through Vrbo. We found this Crystal Beach property. We were like, "This is great." We ended up getting another property that The Real Estate Robinsons or Tony Robinson was sharing on his Instagram. They had flipped a house in Joshua Tree. Patricia's like, "Sold," and then we ended up going and buying that house that they listed and flipped.
We bought the Real Estate Robinson's second flip in Joshua Tree, and there was a whole bunch of stuff that we wanted to change in that. We wanted to put it in a second bathroom. We ended up launching the first short-term rental in its first place in February of 2022. The Joshua Tree one, which we soft launched in June because we had people working on it. We didn't want to have that whole thing going.
The reason I stepped in is the whole short-term rental itself was after the first three initial short-term rental bookings, which Airbnb is like, "Twenty percent off and you can get these things," and more people come to it. They dump about 3,000 to 5,000 people onto your listing when you first launch an Airbnb, so there's a large exorbitant amount of people that see your listing.
The potential statistical value of that large amount of people is that someone is going to book those three bookings. That's usually the statistic I use with advertising. Out of everyone I show it to, about 10% end up clicking on my links, and out of that 10%, maybe 1% to 2% of those booked save it or they will share it with their family, which I don't even know about until after they've already booked. They are like, "We shared this with our family," and then they tell me about it. There are all these anecdotal pieces of it.
Patricia came to me and was like, "We need to have bookings. We have these mortgages. What are we going to do?" I was like, "Isn't this whole new short-term rental thing? I don't know." I didn't know too much about the short-term rental ecosystems or how those even worked on the platforms like Airbnb, Vrbo, and Booking.com. I was like, "I will run some ads. It will be fine." She's like, "Don't tell me you are going to run ads. This is stressful. Aren't you taking this seriously?" I'm like, "It's cool. I will run ads. I will spend $100 and take ten days. Let's see if it's viability." I then started getting bookings. I spent $2.43 at one point, and I got a $6,000 booking.
That ROI is pretty good.
That's pretty cool. Another time, I started running the ads, spent $4 and some change and got a $3,000 booking. I was like, "I do feel that this viability." Some of them the ads show me that people are not interested in some of the photos I've used, and then I can see which photos I need to put up as the front photos. I also use ads as a market research tool for which headlines or titles work to get people to click. I try spreading that information back onto my Airbnb. It's a cyclical piece of the puzzle. I ended up having this inform this, and then I tested it out here. I throw a bunch of things out to test it. Me, getting into the short-term rental game was because we needed to get more bookings. I was like, "I could do that."
I have been doing real estate marketing and advertising for a while but I've never done short-term rentals. I started talking to other short-term rental people and was like, "People are having a hard time with bookings." I know exactly how stressful it is not to be able to feel confident that you are going to be able to pay that several thousand dollars mortgage." If I don't have money coming in to pay for it, I have to pay it off my own pocket. I don't think that I want to have that going. I put the effort into dialing in and focusing on how to help short-term rental people get those bookings.
I have been helping people. I've gotten over a few dozen different campaigns I have been able to run for folks getting bookings. I do a lot of other assessments of where the people are coming from so they can find where their clientele's coming from. Through ads, you can shape and create the ways in which people are introduced to your own system. What you offer is different from other people but when you look at it on the Airbnb system where there are all these familiarities, and some of them are super similar.
Through ads you can shape and create the ways in which people are introduced to your system.
Click To Tweet
For example, people who invested in the Smokey Mountains in Tennessee. Some of those cabins look very similar. There's not a lot of differentiation. When people are scrolling through Airbnb and looking at all this stuff, the hard part is they get analysis paralysis like, "I don't know which one is better. They all look roughly the same. There are A-frames and all these other cabins."
What the advertising does is it takes people from other platforms and then it puts them into your listing because they are not even seeing other listings. That's one thing that is helpful because I'm able to charge more money per night on my listing, so I run ads. Over the summer, the highest was $379 more a night than comparable listings in my area. I'm like, "If I'm bringing people to this and those few out of 10% like my place and the 1% or 2% book, I'm getting my rates. If people don't book with me and are looking around in that local area, then they are booking with my neighbors." I have an indirect benefit to the area that I'm advertising to because the person to who I showed the ad to didn't meet my criteria. They still are looking now for a vacation when they hadn't even thought about vacation beforehand.
It all started with this whole need, and then it ended up being something. I was like, "This is a viable thing." That's when I started the business. I was like, "This is going to be something that I can have, and I help." It's not even my main thing but now I'm starting to do it more and more. I feel like it's more fun and exciting because I like helping people, especially helping them make money. That the blissful side of things is when you have those systems in place, and they are working and doing what they are supposed to do so that way, you are not stressed out. Watching Patricia go through some of the stressful moments and I'm all casual, "No worries."
That probably drove her crazy.
I felt bad. I was like, "I'm not trying to be all like hunky dory about it. I will run the ad. It's what I do."
It's funny that you talk about putting in the systems to make it less stressful. I've said on this show before that systems are the key to bliss because when you have a system done or processes, you know that things are going to be handled. You don't have to reinvent the wheel. You can hand it off to a VA if you so choose or to somebody else to help you. You also have a pretty good idea of what your results are going to be like. Certainly, you have to revisit the systems and results like things that are constantly changing and expanding but I have said many times that it's a system and process that creates the bliss because it reduces your stress exponentially.
It does. When we feel the stress of paying our own mortgages sometimes, and even though we work and have jobs, we have the money, and it goes in, that's the system. The job is the system to then facilitate the housing. All these things are already built into our own ecosystems. On the investing side, it is how you make investing work for you. You listen to the experts and take a lot of information in but those systems are all in the same thing.
You build out your Airbnb, Vrbo, and Booking.com. You then have an OwnerREz that connects to those that create one calendar so that way everyone is not double-booking a calendar piece. Having a double-book weekend is expensive, and it can take away your Superhost status if you end up canceling things. There are challenges that you want to avoid. Those systems create the ease of operating that way so you can do far less and enjoy life more. You then can see, "I'm getting far more than I would through my stocks." It's different.
Real estate is the number one way to increase wealth in America. If you want to increase it and succeed, you got to do something. I always think back to the Pareto Principle, the 80/20 Rule. Eighty percent of businesses fail in the first two years. These investment properties, when you look at them, they are little mini businesses. If you don't treat them like a business, you are not going to see their success of it. It's going to be stressful, and you are going to be one of that 80% that fail. The statistic I saw from BiggerPockets was that over 60% of Airbnb owners sell their Airbnbs within the first year of doing business or something like that.
That's an interesting statistic.
Patricia will say this all the time, "It's not for everybody," and I can account for that. It is a job, and it is being hospitable. If you are not good with people and hire someone that is good with people. You have to have that system or whatever your faults are and ailments in terms of dealing with the hospitality side of things as we go to town on towels. We have more towels than reasonably possible in our short-term rentals. We've gotten many people who are like, "I want to leave a ten-star review because of the number of towels you guys had.
At this moment, we are like, "When we go into this short-term rental stuff, how do we want our vacations to appear, and how blissful would it be if this was available for other people?" That's why we stock that many towels. With hair and all those things, sometimes you need multiple towels to do stuff. If you've got kids, you get all these wranglings. There's a whole bunch of stuff. You can't have like one towel to use. You must think about how you want to be perceived, especially as a business owner and a hospitality provider.
What makes your property special? That's all marketing. I used to run Airbnb too out of one of my bedrooms. We used to rent a couple of bedrooms. That was one of the things that we did. People loved the towels. We always had fun towels. I had Polka Dots or Paisleys, and they were plush. People love the towels. It was the weirdest thing. I was like, "What is this?" They are like, "Where did you get these?" It's so funny. You said you do Airbnb and Vrbo, and what was the calendaring system that you used?
It's called OwnerRez.com. It's Owner Reservation. That is our main connecting piece. It does the automation between the different short-term rental platforms. For pricing, calendar, availability, images, text, and all of those elements, you can change on those individual platforms but it takes time and effort. You can even pay OwnerRez for $500 or something like that, and they set all the stuff up for you.
There are emails that come out of their automated emails when you have a lease agreement you need to be signed and all these different things. There are cool features in that. If you pay a little bit more monthly, there's a direct booking site, so you don't have to pay half a separate website built out there. For direct booking sites, it's a formidable experience doing it.
You are literally becoming the hotel. That's all the liability and scariness of that. There are things that you have to pay attention to for direct booking, which is why I'm like, "I send most of my traffic to Airbnb now." When I send traffic to Airbnb, I'm inorganically increasing the traffic flow to that listing view page. By increasing the views of that, I'm telling Airbnb's search algorithm, "This is a popular property."
It will put it on the top.
It raises in rank and makes you successful in terms of both organic searches as well as your ad searches. That way, the ads are influencing the ability of Airbnb to see you as a viable property. Since Airbnb changed things in the summer of 2022, it's crucial to have some ways in which you can stand out on the Airbnb platform. What Airbnb wants now is unique places with very strange experiences. They want to promote all those things more so than the run-of-the-mill places that are perfectly reasonable to vacation in. Each of the systems is a different ecosystem. There's a whole different Oprah episode that we can go into those things.
Airbnb changed things in the summer of 2022, and it's really crucial to have some sort of way in which you can stand out on the Airbnb platform.
Click To Tweet
I don't think that the Vrbo clientele leaves reviews quickly enough, so I don't even push my Vrbo. Although, we get 30% of our bookings from Vrbo for the Crystal Beach property. I don't get any of those bookings from my Joshua Tree property. There's a difference in the type of person who's using those things. Airbnb is almost like Kleenex in terms of brand recognition for the short-term rental game itself.
As investors, when we are going through it, we want to be in all of them. Whatever one you are on, you are going to have an opportunity for people to find you. In the Venn Diagram of the internet, there are all these people that go to certain sites or all of them. That's a way in which you can stand out by standing up for all of them.
I want to start digging into the actual advertising piece. First of all, thank you for the algorithm update because I was not aware of that. As with everything else, whether it's Amazon, Google, Facebook or whatever, everybody is updating their algorithms, and they have a definite slant on how things are going. I wasn't aware of that update. Thank you so much for that.
It was a massive one. They call it the summer release. It was detrimental. I couldn't even find my property listed on Airbnb after that. For their beachfront or ocean view category, they didn't show my property at all. There are all these other things about those systems not working to their full effect of what they should do when they make those changes. Doing ads is what I have been succeeding at. I don't even need to worry about being on that platform as much. The location is now findable but in those moments, it's a little freaky when my name just dropped off.
I've had that happen too. I was a Superhost, and my property was always in the top three, and then suddenly, it disappeared. I was like, "What happened here?" It was interesting. Anyway, so let's talk about advertising since that's your genius. Talk to us about creating a digital presence to compete effectively. You've talked a little bit about it already on a high level but give us a little bit more on what to do.
I published a little book, and it's very tiny and thin. It's only 37 pages. I made a quick little guide on how to excel at short-term rental advertising. When you think about the digital presence and what people succeed at like "Where are people hanging out online?" We have a few different areas where people are online. Meta has Facebook and Instagram, and some other different websites that are all in that circle and sphere.
You have other ones like Pinterest, YouTube, and TikTok. TikTok is a great landscape because many people are on TikTok now. It's excessive amounts of people. I have a friend doing syndication stuff as well. He's going to start doing content on TikTok, teaching people about how to do syndications, where you all pull money in, and you can buy a property together. There are a lot of different avenues with that. They are also being used for NFTs, the Non-Fungible Tokens. Those are other areas that I have been helping people with as well. Not just with the advertising.
For the ad systems, you can operate on ecosystems like Meta, which is what I like to use for a lot of the short-term rental or real estate investing stuff, in general. With Meta Ads, I can literally create an advertisement that has an image or video. I usually choose up to 10 images or videos for 1 ad campaign. I then have five different pieces of text. I like using people's reviews.
Whenever someone stays at your property, if you have a short-term rental or an investment property that is like commercial property or something else, you have some statement of actual patron or a customer of that and they are like, "I love this. This is amazing. I love staying here." People trust what other people are saying more than what we are telling them as the actual owners. It's not necessarily like, "Come visit my thing. It's the best," but it's like, "See what people are saying about this," and then you make your decision based on that. That helps people make those eccentric.
People trust what other people are saying more than what we're telling them as the actual owners.
Click To Tweet
You run ads with a bunch of different combinations of text and little calls to action and create those little moments to use that digital presence to then tell people about it. Oftentimes people will say, "You have to be active on social media and all these things." I'm like, "I don't have a lot of time, and I'm not very active on some things." I know the viability of being active on a social media platform like Facebook if I have a business page. If I post a bunch of things there every single day, I can't even promise I would get much action or activity out of any of those posts.
People are oftentimes like, "I don't see the viability of it," but if you run ads, your posts are getting to people instead of them having to find it through all the different things. Facebook from 2018 is when they made the change. The first thing you see is events in groups. The things your friends are doing, the groups that you are in, and people are talking about stuff that you care about. You then see your friends' stuff, and then below, all the way at the bottom, you see business pages.
Those business pages, that's the viable thing that used to be what worked and tell people about stuff. I now post a few things on there and treat it like a digital billboard. Ultimately, I have enough information and photos on that Facebook Meta page where people then say, "This is what this is." If it's a short-term rental, they see where it is, the photos of it, some of the things to do in the area, and also the link to go book.
I use ads to tell people about the booking page. I literally don't point them to the Facebook page. I tell them about the link. They see the Facebook page in the ad so that they can click on it. This is funny because I use a lot of different KPIs or Key Performance Indicators to see whether or not these ads are working. From the Facebook side of it, it's the number of clicks I have on the ad is one thing but then the number of shares, interactions, responses, reactions, loves, hearts, all those little things, engagement with people talking about it, commenting, telling their friends, and tagging them in it. There's all this activity that happens, and it's lovely.
When people save the posts, I'm like, "This is golden," because someone saved it. They might not be a client of mine now but they are probably going to book at some point. If they are aware of it and since they clicked on my ad, I can target the people who've clicked on my ads. I can say, "Remember the ad you clicked on. You should totally take a vacation. You deserve it. You are amazing."
When you have those moments, these ads are doing all the posts for you. You could set up an ad campaign. All the different combinations of modular like texts, images, video, and all those things Facebook's algorithm will put together for you. It will find the most performing, the most clickable, the most liked, the most effective, and a combination of all those things. With that, you can see a lot of cool data. You can start seeing, "What are people interested in?"
When I was starting with my Crystal Beach place, I was like, "This is a luxury place. It's got vaulted ceilings. It's great. This is better than anything I've ever lived in myself." When I started using luxury or things I would normally do for luxury real estate, people weren't clicking on it. When I used family-friendly or fun for the whole family, people clicked on those things in droves. I was like, "I see who my clients are." They are people who have kids and families that are bringing people together. Ultimately, those little friendship circles are also a part of that too so it's not families.
Those are popular keywords that I then put into my listing titles. That way, I'm like, "This triggers more people to click on this. If I update my listing, it's going to then match what my ad said." The ads inform what I put onto my listing itself, and the top photos go to the forefront of those listings. On my Instagram page we don't have much activity in terms of us posting on some of our Instagram pages.
Our Joshua Tree property, that LA, San Diego, and Las Vegas crowd who usually rents in Joshua Tree use Instagram more. That's something that we organically post on Instagram for those ecosystems to work a little bit more. I don't see the viability of it quite yet but it's nice to have some of those things working out.
Those markets for the Joshua Tree property like Instagram. How did you figure that out as opposed to Facebook?
When Facebook runs any of the ads, it's going to send them out to Instagram and Facebook. It has all of those arranged. With Instagram, I saw the clicks were far less. I spent money straight up on Instagram $100, to see the viability of it. Out of that $100 spent, I didn't get any results in terms of bookings. That made me feel that it wasn't necessarily a viable source for new bookings from those ads. That's something that might change. There's an ebb and flow to things.
I've even started doing ads on Pinterest, and I can talk about that a little later but there are ways in which you can reach the audience that you are trying to reach. There are mechanisms that they are paying attention to online. You even mentioned TikTok. There are a lot of people on TikTok but I'm not necessarily sure how many people are going to be booking vacation rentals or even doing real estate investing. It's the demographic of who is booking. When they are clicking on your ads, those things all come into factor.
The demographic who is actually booking and when they're clicking on your ads, those things all really come into factor.
Click To Tweet
I put a lot of effort into Facebook for a while, the beginning parts of my business. It's not for real estate but more for real estate investing for women and bringing women together and the community. What's interesting is that the level of effort that it took to try to get things moving was so massive. It's not my expertise, and it became such a chore for me. It was not fun. I was spending too much time there, as you said. We are all busy.
You put in time and energy, and you want to see some results if you are going to continue. I found that with Facebook, I was not getting the results that were helping my ladies. On Instagram, I spent a lot of time on Instagram but I don't post a lot anymore because, for a huge amount of time, I wasn't getting any following or whatever. I'm a little bit of a social media fail, which I'm okay with. I decided it's okay to be a social media fail. It's interesting to me that you are talking so much about ads, and you don't have to be active on social media and still, doing the ads is effective.
You are not a failure on this stuff. All of the efforts that you put in, even though you don't see the value, still have some value to someone out there. When those people find you and go back through your past posts, they are like, "I get a sense of this," as more of a rapport with you because you do that stuff. That heavy lifting up front is viable.
For ads, you can set this up. Facebook figures it out. It's probably going to deliver over 3,500 different ads. When you think about the thousands of advertisements that are going out there and people being shown based on their interests and demographic area, sometimes I will target one city or different cities. I rarely target the whole United States.
I will go in and find specific areas where there are certain investors, people looking for certain properties or different things of that nature. I will find where the guests are based on a large blanket area and set the ads. I then see where the clicks are coming from as specific cities. I drill in and only advertise to those cities. I try to make it that way.
I'm learning stuff with the ads. Even with Facebook itself, if you have some posts that have bigger interests or video posts, there are some things you can test out on social media without running them as ads. I like to run them as ads to test them out before I put them on social media. You can do both but it informs me of the other.
One of the best things now is that the videos are portrait-size. Those videos are more converting for Facebook's own statistical analysis of how people are interacting with content. I usually talk to Facebook's ad support team a couple of times a week. This summer, they have been promoting Reels. The most effective ads now are the fifteen-second ads that go between Reels. They are fifteen-second ads like a video, portrait size with your phone and film it is saying what you do and where you are at. Even if you are an investor trying to get other investors to pull money for a syndicate, there are different mechanisms that you can do to tell people about what you are doing.
That's the number one thing about real estate stuff. No matter what real estate thing you are doing, you talk about it. If you talk about it, you don't know who else might be interested in it, who else might be doing something in that or who else might be interested in investing money with you that you can use their money to do things with.
There are all these different options that are viable ways of making money that you don't even have to be doing all the hard work. For those people who are doing that syndication thing, there are beautiful opportunities. For the people doing short-term rental stuff, there are amazing opportunities for people to be reminded of taking vacations. You are like, "I provide this luxury experience for people who have vacations." There are all these people doing amazing things with their own properties. They have galactic game rooms, the Patrick Swayze room down in the Palm Springs area. He's with STR Nation.
There are all these different companies that are building themselves out by designing the different experiences of what makes a cool vacation. Now that we are all thinking about it, we spent some pandemic times not going anywhere and going to some of these places, and the viability of some of the short-term rentals went up during that pandemic because a lot of hotels closed but now hotels have been doing smear campaigns. They are like anti-Airbnb and other short-term rentals. They are like, "They are spooky, and you have to take out the garbage yourself and all these things." They will say the worst-case scenarios.
I've seen some people who have minimum night stays that have not seen much results from advertising. If your property is not viable for whatever variable the person needs to have like calendar availability, location or the number of beds you have. I can't guarantee that there will be bookings with any of the ads I do but we can try and find out. Also, the added benefit of not having to run your own social media makes it easier, and you have something running.
In advertising, I spend $10 a day for each of my properties. It's $300 a month for a property. If I run people's ads, I usually charge them 1-to-1 based on what that is usually of the ad spent. For the most part, I've spent $700 a month on advertising. I'm like, "I got X amount of money in bookings by telling more people about it." It's a justifiable cost for me. When I think about the time I save by not having to post a bunch to get people to even pay attention to it, I had all that time to spend with my three-year-old daughter, which is far more important for me to ensure that I'm paying attention to her than worrying about posting on my Instagram and Facebook pages.
You said something that I want to go back to. It's the vertical video. Are people posting them in their Reels and lives or are they posting them in their groups? How are they doing that?
When they post them live, it goes onto stories. That's a viable solution for those. When they post them, even as a story on Facebook or Instagram, it does different things. You can take the same video and post it to Facebook Stories, Instagram Stories, TikTok, and YouTube. There are all these different places you can put that same video. That same video could act as a trend rolling. I like YouTube for a lot of this stuff as well.
I don't know the viability of what people are booking for on YouTube but if you are looking for other real estate people or doing investing, there is a lot of information on YouTube. They are making YouTube Shorts, which are essentially the same thing as the Stories on Facebook or Instagram. Snapchat is where that all originated from but that's not a viable ecosystem for this. This is good for video games.
TikTok is where everyone is now. Even if, as investors, they are like, "I'm going to try that out." TikTok has an advertising opportunity. You create an ad account, pay them per view, and you have to submit a whole video. It's usually a pretty simple process but I have been doing ads for so long online. It's not easy for a lot of people. Even setting up Facebook ads takes some effort to get some things going because it is a tricky regulated system. Sometimes you have to submit your business information to be verified. That way, you can advertise. Facebook is getting touchy about things, especially if it's around any political season about ad accounts in general and what you are advertising. It's crucial.
Is a Story the same as a Reel?
No, but it goes in the same spot. A Reel is a minute or longer video that lives in the Stories environment. Story environments like Facebook Stories and even Instagram separated out Reels into their own section now. It's still being put into the regular post areas. Everything with these platforms changes. It always adapts to new things. If someone has a cool new product idea, they are like, "Let's do that everywhere."
There was a whole Clubhouse thing that came out while we were all at home during the pandemic. Everyone is talking and having voice chats. All of the platforms started having that thing as well. The hot thing now is Reels. If it's a minute-long version of a video that's shot in that 9X16 format, that is all that you need to do. If you are not doing those Reels, you can post a little bit.
If you don't want to post those Reels and have it done through ads, you make the ad that's a 9X16 video and then submit it up to be included as a Reel, and then all of those will show up. This leaves you not having to worry about doing it and not doing a lot of them. You can have one doing most of the work for you. It takes a lot of that stress of having to create a lot of content.
My partner, Patricia, was getting stressed. She's like, "I have to make content and all this stuff." I was like, "It's okay. Make 1 or 2 that you like, maybe even 5." I'm a big fan of testing. I like to spaghetti test everything. If I'm going to throw a bunch of stuff at a wall, then I'm going to see, "The 2 or 3 things worked well, and I'm going to keep doing those things."
If you iterate on the process and make it even better each time, I can't guarantee that it will always be the same thing that works well. After people work with me, I've got at least a good idea that I can flip a switch on, and then all of a sudden, they have ads running and a bunch of traffic going to their listing. If the listing has things on it that make people want to book it, then great but if they have anything on it barely, they have low information, low images, and bad images, we can find out pretty quickly if that's a viable listing.
Throw a bunch of stuff at a wall, then see the two or three things that worked really well and keep doing those things. If you iterate on the process and make it so that it's even better each time.
Click To Tweet
I've worked with a couple of guys over the course of running ads. They determined that it was the property they needed to sell. They were able to find out quickly instead of having months and months of mortgage costs and ultimately draining some of the reserves. They can find out, "This is not a viable product," or maybe they need to do a different type of investing. Maybe it's long-term or midterm.
I love the midterm investing stuff, especially because of the traveling nurse mentality. There are many resources that those people have that we, as investors, provide. I know several investors that only invest within 500 feet to 1,000 feet away from hospital access. They have patients as well as nurses who do traveling nurse stuff and stay for more than 30 to whatever timeframe. It's usually pretty decent money for that thing. It's not some of the short-term rental money but you can get three times the actual cost of the mortgage and rent.
As an investor, you must figure out, "Which one of these areas you want to do it in." I'm still a big fan of long-term rentals. We have 4 doors in Iowa, and they are 2 duplexes. Patricia went out to Iowa to close on one of the properties. I had a buddy who moved out there. She's like, "You got to invest in Dubuque, Iowa." We are like, "Dubuque, Iowa. That's weird."
We have two of these like little duplexes that rent $1,500 a month without having to do much. That's just cashflow. When we started our journey, we had $400 a month cashflow. We are like, "This is tricky." We are able to get a second job's income on a monthly basis coming through moving some of that money to long-term rental. That ecosystem is a little bit different, and I don't do advertising too much for that. We only do ads when we are placing people in there, which is 9 to 12 months at the time. It's not too crazy.
It could go on forever. We didn't get to do our three rapid-fire questions or anything. I always have to make that judgment call on myself about, "Do we move this along or do we go with the flow?" In your case, what I'm finding is there's so much knowledge in your head, and you speak in this stream of consciousness, so we get all these jewels that came out. Those were off-topic but amazing. Thank you for that. Ladies, I hope that that was okay with you. Every time I would like to say, "Let's get to this next question," then he would say something, and I was like, "What?" and I would lean in. I hope you ladies had that same experience.
Before we sign off, we are going to talk about Pinterest. Mike has had a lot of experience as he's talked with Facebook, YouTube, and Instagram but he started working on Pinterest. I wanted him to share with you that experience because we've never had anybody talk about that on this show. We are going to be doing that in EXTRA. Stay tuned for that. Mike, could you tell the ladies how they can reach you?
You can reach me at STRAdvertising.com. I'm pretty active on Facebook. I have a Facebook group, Short Term Rental Marketing Advice (Powered by BTA) Better Than Awesome is my main umbrella company. I'm happy to provide help. I have a lot of free resources. In fact, I normally charge for this but I'm going to give your audience a copy of my eBook on how to excel in short-term rental advertising. It's a quick and dirty little walkthrough on how to do this with my processes, how to iterate on things, and a lot of my methodology. I talk about my own experience of getting into real estate stuff but it's very short. It's 37 pages, and there are lots of pictures.
Essentially, it's a quick, easy start guide to get you into it. I have a little extra bonus in there. It's a digital presence quick start guide that tells people, "Once you are over quick and dirty. This is the platforms you should get onto. This is how the ad is set up. This is a demographic you want to look at," but I will be able to send that to everyone that has an eBook offer. We will make sure we have a link for you guys.
That's STRAdvertising.com/moneeka. Thank you so much for giving my ladies that book. I know it's out there, and it's normally $9.99. It's so sweet that you are giving it to my ladies. Thank you for that, Mike.
You are incredible, and I love what you are doing here. My mom raised me right. I'm trying to be a good ally. One of the most deserving populaces to be able to have better information and compete at the higher levels, as I said earlier, even the big boys club, that nomenclature is totally inappropriate. Let's make that into something where it's the big players club where it is something that people don't have an association of gender with it. It's very important that, as a cis White man, I use whatever privilege I can to impart some benefit to people who are not in the weird privileged state that I am by societal inheritance.
I don't do much to earn some of the things that people inherently give me as I walk into the room but what I do have and gained from that I can impart with some pretty solid wisdom that's actionable and can help make money. I genuinely feel pretty confident. Everyone that I've worked with teaches how to do this or even uses the book to do it. They are all very pleased with how short and concise it is, and it's not a bunch of BS.
Thirty-seven pages are awesome. I wrote a 37-page book also. You have to get good at making your point. It's hard but it's good for the reader.
I started making TV commercials as one of my first video jobs. That highly complex thing into a short-distilled conversation piece is what I've specialized in.
Thank you so much for all that you've offered at this portion of the show. I can't wait to talk in EXTRA about Pinterest.
Thank you so much for having me again. I appreciate everyone. If you guys have questions, feel free to reach out. My group has a lot of great people, and I have been helping with as well. They all have a good insight into their own stuff. I like information sharing, so let's get everyone in there. I have been banned from other groups on Facebook for sharing free information. There's a thing out there, and people are not interested in what I'm doing because it's working and competing with what they have. That's unfortunate but everyone deserves to compete at some of those higher levels without having too much.
Thank you. Ladies, stay tuned. We've got more. We are going to be talking about Pinterest in EXTRA, so if you are subscribed, stay tuned. If you are not but would like to be, go to RealEstateInvestingForWomenEXTRA.com, and you can subscribe there. For those of you that are leaving us now, thank you so much for spending this time with Mike and I. I look forward to seeing you next time. Until then, remember, goals without action are just dreams. Get out there, take action, and create the life your heart deeply desires. I will see you soon.
Important Links
Love the show? Subscribe, rate, review, and share!
Join the Real Estate Investing for Women Community today:
Get Dr. Shaler's free EBook: "How to Spot a Hijackal"  at https://www.forrelationshiphelp.com/help-handling-hijackals-spot-signup/
To listen to the EXTRA portion of this show go to RealEstateInvestingForWomenExtra.com
——————————————————
Learn how to create a consistent income stream by only working 5 hours a month the Blissful Investor Way.
Grab my FREE guide at http://www.BlissfulInvestor.com
Moneeka Sawyer is often described as one of the most blissful people you will ever meet.   She has been investing in Real Estate for over 20 years, so has been through all the different cycles of the market.  Still, she has turned $10,000 into over $5,000,000, working only 5-10 hours per MONTH with very little stress.
While building her multi-million dollar business, she has traveled to over 55 countries, dances every single day, supports causes that are important to her, and spends lots of time with her husband of over 20 years.
She is the international best-selling author of the multiple award-winning books "Choose Bliss: The Power and Practice of Joy and Contentment" and "Real Estate Investing for Women: Expert Conversations to Increase Wealth and Happiness the Blissful Way."
Moneeka has been featured on stages including Carnegie Hall and Nasdaq, radio, podcasts such as Achieve Your Goals with Hal Elrod,  and TV stations including ABC, CBS, FOX, and the CW, impacting over 150 million people.