Invest In Your Future To Eliminate Financial Stress With Jen Lee – Real Estate Women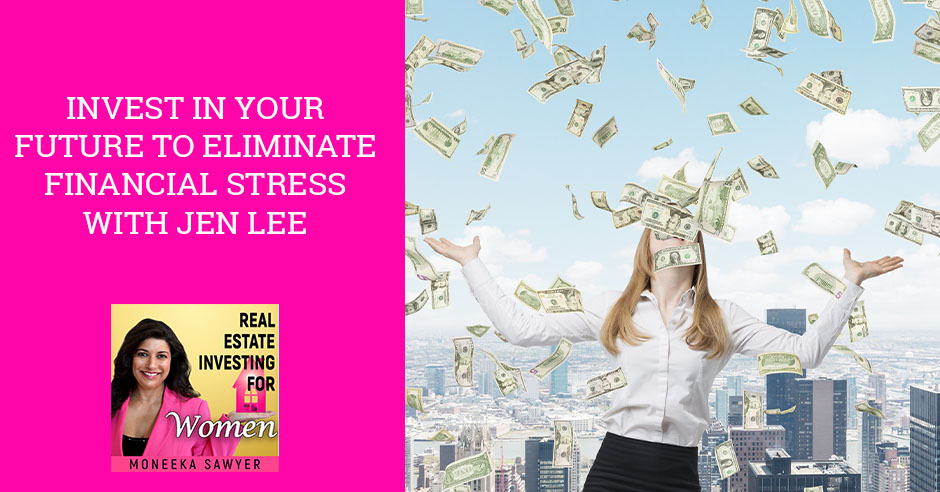 Many experience financial stress caused by debt or credit and want to eliminate them. However, people are afraid to ask for help or bring up their debt status for fear that people might think they are horrible people for having bad finances. Today, Jen Lee, the owner of Jen Lee Law Inc., expresses her thoughts on dealing with our debt situation. Jen is a debt and credit strategy attorney, a speaker, and a published author. She discusses the depth of future problems if we do not seek legitimate help with our financial problems. Let's join them in this fascinating conversation to learn the actions we need to take and what we should consider in dealing with debt.
—
Watch the episode here
Listen to the podcast here
Invest In Your Future To Eliminate Financial Stress With Jen Lee – Real Estate Women
Real Estate Investing For Women
I am so excited to introduce you ladies to Jen Lee. Jen is a debt and credit attorney and Owner of Jen Lee Law, Inc., a law firm with offices in San Francisco, San Ramon, and Tracy, California. She's in my neighborhood. She is a leading expert on debt, credit, and financial stress, having been featured in ConsumerAffairs, US News, World Report, and other national publications. Jen is a Creator of several innovative programs to deal with financial stress and rebuilding after a financial disaster. Jen is the coauthor of Preventing Credit Card Fraud: A Complete Guide for Everyone from Merchants to Consumers, published by Rowman & Littlefield in March 2017. Jen, welcome to this show.
Thank you for having me. This is great. I'm happy to be here.
I'm so excited about this conversation. Jen's backdrop is her little elephant Bernadebt sitting there with her. It's making me smile. We are going to learn more about Bernadebt. Tell me a little bit about yourself. How did you get into this industry? Why are you passionate about it?
I grew up in a fairly financially unstable environment. I dropped out of college because college was boring. I went to work. I worked in financial services for a while and then went back to law school. While I was in law school, I thought I would do estate planning and help people plan for retirement because that was my background. I took a class in law school on Estate Planning. I thought it was the most boring thing in the world. I was like, "I can't do this for the rest of my life."
When I graduated from law school in 2009, we were in the middle of a big recession at the time. If you remember, back then, real estate prices were lowered. We didn't know what was going to go on. I got into doing bankruptcy work at that time and helping people with foreclosures. I found inadvertently through that path that people need a lot of help with debt, credit, and planning for the future. It's not always your basic retirement plan that people need. That's how I got to where I am, helping people out with debt and credit.
It's true. Retirement is only one event in our life. It's a big event but there are a lot of things that you have to go through before you get there. You need to plan it and everything around living your life. That's awesome. Could you introduce your little elephant? Tell me the story about that. Why did you introduce her?
Bernadebt is the elephant in the room. She's the elephant in the Zoom these days with all of the Zooming that's going on. She was born in 2017 because I kept having people say, "I don't know when you want debt or credit problems, so I don't know how I could ever send someone your way." What happened was I did some statistics and looked at the numbers.
Seventy percent of Americans have a debt or credit problem of some sort. This was before COVID. She's pre-COVID. No one talks about it. Everyone thinks they are alone. They don't know how to deal with these debt and credit issues because they think that everyone is going to stigmatize them and think, "You are a horrible person because you have a debt or credit problem."
Bernadebt was born to make that topic a little bit cuddlier. She made it easier for people to talk to me. They're like, "You see a lot of this. I'm not coming to you with a new problem." I was like, "You are not. Your neighbor and their neighbor also have the same problems." That's how she came about. Everyone thought that they were alone. She stands for the idea that we are not alone. A lot of us have debt and credit problems, especially with student loans.
The best way to be financially well is to never have financial problems, but that's not realistic. What people need to do when they have a problem is look for legitimate help.
Click To Tweet
She's cute and cuddly. A lot of us have made mistakes. We have these credit problems. We have debt. We've made big mistakes. How do you set yourself up for success in spite of that?
There are a lot of talks out there about financial wellness and all these programs to help people stay financially well. The problem with some of the financial wellness that's out there is it doesn't help you recover from things. It helps you prevent it in the future. The best way to be financially well is to never have financial problems but that's not realistic. What people need to do is, when they have a problem, look for legitimate help. Find out who you should talk to about a financial problem that you have and know that they are all fixable.
Every financial problem out there is fixable. Something can be done. It may not be stress-free and completely pain-free but things are fixable. You will feel a lot better getting it resolved than you would if you keep letting it stew out there and you are always worried about it. Find out what you can do and face it head-on instead of letting it sit there.
I find that avoidance is significantly more stressful than dealing with the situation. Avoidance can go on forever. It can go until you die. If you deal with it, it may be a couple of years of pain or maybe more. Bankruptcy can sometimes be seven years of pain but it is 7 years of an entire 90-year life. It's finite but this avoidance thing can be infinite. Wouldn't you say?
It can. The avoidance part of it is you don't realize how much it's affecting your relationships and your health. I have a lot of clients who come in. We solve their problem either with bankruptcy or through other means. They call me back 30 or 45 days later and say, "I had no idea that I hadn't slept in 30 days before I saw you. Now, I've slept every night since we've resolved this issue." You don't realize what it's doing to the people around you and your health when it's happening to you but then when you look back, you're like, "I can't believe I lived with that for so long."
Stress wears you out. You get tired. You don't perform as well. Things tend to go wrong in other parts of your life. You can't even get to your best. Your best is not its best. That's true. Talk to me a little bit about the scams that people fall for out there.
We are so embarrassed by having bad finances. A lot of times, it's because we weren't taught it when we were young or families didn't talk about it because it was a taboo subject. What happens is people tend to fall for the late-night television commercials that say you have the right to settle your debt for pennies on the dollar and some of the tax default scams out there too.
I see a lot of people who churn to the internet to try to DIY their problems, and they end up hiring companies that probably aren't acting in their best interests. All that does is prolong the pain. They then have to come and see me, and we have to fix all of that as well, whereas if they had stepped in from the very beginning and said, "What's the legitimate solution to this?" they wouldn't have to go through that.
The big scams I see a lot are debt settlements. Most debt settlement programs don't tell you all of your options. They sell to you. A sales pitch on what they are doing. I also see a lot of the online tax ones where they offer to settle your tax debt for pennies on the dollar. People pay a lot of money to those companies, and then they don't get the results that they were expecting.
Talk to me a little bit about where they would see results. What is it that you do that's different? Let's talk about what you do.
My goal is to educate. I want people to know what all of their options are and the pros and cons of each one so that they can make good decisions rather than the decision someone is trying to sell them when they're desperate. A lot of my discussions are almost like therapy. We are going through and figuring out, "What are the pros and cons of this? What's my long-term effect going to be?"
People don't realize that you can recover from bankruptcy in a year, your credit score recovers in a year. Everyone has this misconception that it's this 7 or 10-year process and you can't get a mortgage. I have clients who are investing in real estate while they are in bankruptcy because they are able to get mortgage lending while they are in a reorganization plan. My goal is to educate people to make good decisions. I'm hoping they make the decisions I recommend because my superpower is seeing the big picture. If they don't, at least they know and are educated on those options.
I was under the understanding that it takes seven years. Could you talk a little bit more about that?
Most people who go into bankruptcy think their credit score is going to be destroyed by bankruptcy. What you don't realize is once you get to the point where bankruptcy is a great option, your credit score is already destroyed. You have already been late on payments. You may have a house that's in foreclosure. Things have already gone on that got you to that point.
Filing bankruptcy increases most people's credit scores. If I have a client in the 500s filing for bankruptcy, it will immediately improve their credit score, and then they can start rebuilding right away. The credit score is how risky you are to lend money. You are way riskier if you have all this debt hanging over your head than if you were to clean it all up and be in some type of rehabilitation time in your life of financials. I have clients closed on a house in the San Francisco Bay Area. They are in a Chapter 13 bankruptcy reorganizing some taxes but were able to still buy a house while they were in bankruptcy.
Do they get a loan for that?
Yes. FHA lends while you are in Chapter 13 bankruptcy.
That's interesting. I was going to say because most lenders that I know would not lend on that.
People don't realize that you can recover from bankruptcy in a year. Your credit score recovers in a year.
Click To Tweet
Most conventional lenders would lend four years after bankruptcy.
We used to have subprime but we don't have any of those options anymore. That's great news. It happened in my neighborhood in the South Bay. That's impressive to me.
It's exciting for me to see my clients are so happy. Once all these things start getting resolved, you start seeing the stress melt away from them. It goes back to the effects that financial stress is having.
Much of my message is about having a choice, and it's exactly for that reason. It's not necessarily because you are in debt but that's part of the umbrella. I want people to live in choice and freedom, not in need, desperation or stress. Being blissful means, you are not stressed. You have moments of stress. We all have moments of stress but you don't live in that place. It's not running your entire life and being.
Having those choices is what frees people up to be able to do more things with their money and the wealth that they can generate. Once you know your options and you are making strategic choices and not emotional choices, things start snowballing in a good direction versus a bad direction.
One of the things that I talk about when I define bliss is that bliss is this deep sense of joy and contentment and the feeling that you can handle anything that comes your way. It's about emotional mastery or emotional resilience. It's being able to make those decisions outside of the stress and emotional reactions instead to get yourself to a place where you can make rational decisions. Get the education that you need. Have conversations with professionals that are not based on fear but based on problem-solving.
That's exactly what I want for all my clients. I know it's funny to talk about bankruptcy and bliss but honestly, I want my clients to feel that sense of, "I'm making good decisions. This is a strategic reason why I'm doing these things." We speak the same language.
I love that we speak the language of choice, like for you to educate people so that they've got choices. They can go with what you say or not but at least they are educated. They can make rational choices. That's amazing. Thank you for that. Talk to me about retirement. The question that you sent me is, "When should someone start saving for retirement?" For me, it is as soon as possible but what's your response to that?
As early as possible. I know some self-employed people have their children on payroll, so they can do Roth IRAs. The idea of compound interest is you don't realize how much is sitting there in retirement. I see the bad side of things because my clients are often financially stressed but what I see is people constantly cashing out retirement, paying down debt, and then building up some retirement and cashing it out again. I would like people to think of retirement accounts as something you start when you are six years old, and it just sits there.
Whether you have self-directed investments or real estate in your IRA or your mutual funds in the market, let it sit there and don't touch it. I have a lot of clients that are in their 50s, 60s, and 70s that are not able to retire. They think they have $100,000 in their retirement account, and that's going to be enough to retire on. That's not enough to live in the Bay Area even. It's scary to see the retirement accounts of different generations that we have going on in the country.
It's so interesting to me because I've had a lot of people on the show say, "You can take money out of your retirement account for that." That's not the purpose of a retirement account. If we want to self-direct it and put it into an asset that's going to appreciate or give us cashflow, you do a self-directed IRA like a true one. That's okay. There are so many people that are like, "You can take money out of your IRA and pay for that. Do this or pay down debt." I'm like, "That's exactly what you shouldn't be doing." The retirement account is there for you to force you to save for later because you are going to need it.
If you are so desperate as a money earner when you are young, you are still able to earn money. If you are so desperate that you have to pull money out of your future, what are you going to be like then? You've stolen all those years of progress from yourself towards that future. It's about creating better financial skills, not about robbing your future so that you can have something a little bit more comfortable. I believe in that. I've never said that on this show because so many people contradict me on that. It's like, "Why would you spend your retirement? You need to plan for it." You need to plan for that. There will be a day when you cannot work anymore.
I'm happy to know that. I have so many people come to me, and they have been told by a financial advisor to take money out of their retirement to pay the debt because they didn't think they had other options. That's where I come in with the options. What people don't understand is retirement accounts have special protection legally from creditors.
If you cash out retirement funds, creditors can then get to those funds if they get a judgment against you. If it's sitting in your retirement account, you can have a million-dollar in retirement accounts and still file for bankruptcy and keep your million dollars because it's protected in their retirement account. It has a special holier than anything, almost protection over it by leaving it in that account. I like to educate on those options too.
That was amazing. I didn't know that. I know that most of us have to be forced to save. It's one of those things. Have you read the book, The Richest Man in Babylon? He was like, "Pay yourself 10% first." Who does that? If you have a retirement plan that you have funded out of your paycheck, it's automated, and you don't think about it, then you are doing it. You are like, "I don't have to think about it."
You don't have to budget for it. You don't have to think about it every single month like, "Can I afford the 10% this month?" It's not a decision. It's planning for your life. People say that it's held captive and that you can't use it when you need it. You will need it and use it when you need it more than ever before. It's a good idea.
I often hear from people, "I can't afford to put any money into retirement. My budget is so tight." I would challenge people to look closer at their budgets to figure out because it's not even the full amount you are putting in there. You are saving taxes as well by putting them into a retirement account. I challenge people when they tell me that they can't put any money into retirement because almost every budget has a little bit of room in them.
From the very beginning, from when we were dead broke, my husband and I always invested in his 401(k). I have a Roth IRA. We always put money in there and maxed it out. He has been at companies over time that matched, so we got a bunch of free money. I don't want to admit that very often on the show because it's not a popular thing to say anymore.
Having choices frees people up to do more things with their money and the wealth they can generate. Once you know your options and you are making strategic and not emotional choices, things start snowballing in a good direction versus a bad one.
Click To Tweet
I do have a self-directed IRA also. I've got all of these things. It's part of the financial plan. It's part of planning for my future. I won't get it now but I'm going to get it when I'm 65 or 72, or whenever I decide to pull it out. I will need it then too. It has grown during that time. I didn't rob myself for the fun of life. I'm allowing myself to have fun, freedom, and less stress later.
It will always grow. People look at the markets as shaky. If it's not in a self-directed, if it's in more of a standard portfolio, sometimes people freak out about market dips. You have to let it ride.
Don't keep looking at it. That was amazing. For EXTRA, we are going to be talking about the mistakes that you see women making in finances. I love the topic but what specifically are you going to be focusing on?
We are going to be focusing on generational issues with women because we are often the caregivers. We are often trying to take care of our parents and our kids. We are going to talk about how that money issues come up in those situations.
It's so much like the sandwich generation. You've got both sides that you are dealing with. We still have to protect our own futures. I'm excited about talking about that. Before we go there, could you tell people how they can get in touch with you?
My website is JenLeeLaw.com. You could contact me on LinkedIn too. I do a lot of posting on LinkedIn and sharing educational information. Those are usually the two best ways to get in contact with me.
Thank you for that. Are you ready for three Rapid-fire questions?
I am ready.
Tell us a super tip on getting started investing in real estate.
My super tip is to sit down and write out your budget. Figure out how much you have to put towards investing. Find the professionals you need to do that. That's what I would start with.
What's the strategy for being successful as a real estate investor?
Use the right professionals around you so that you are getting the best deals and you know what all the details are. Don't leave it up to someone else to manage your finances. Know what is all in there yourself.
Have professionals but also keep track of them. Keep your eyeballs on them.
Use their advice but make sure that you know what's going on and understand it because a lot of people fall into that, "Why did I trust this person to do it? I didn't know what they were doing."
What is one daily practice you do that contributes to your personal success?
I sit down in the morning for 30 minutes and plan out my day like, "What's going to. What needs to happen, and what can happen if I have time?" We all get stuck in this jump into the day, and it flies away from us. That 30 minutes of planning in the morning have helped me to center myself.
This has been amazing. I'm super excited to chat in EXTRA about the mistakes that we make as women in our finances. If you are subscribed to EXTRA, stay tuned. There's more. If not, go to RealEstateInvestingForWomenEXTRA.com so that you can check it out. Thank you so much for all that you've offered in this portion of this show.
Thank you for having me. I enjoyed it.
Thank you for introducing us to Bernadebt. Ladies, if you are leaving us now, thank you for joining Jen and me for this portion of the show. I look forward to seeing you next time. Until then, remember that goals without action are just dreams, so get out there, take action, and create the life your heart deeply desires. I will see you soon.
Important Links
Love the show? Subscribe, rate, review, and share!
Join the Real Estate Investing for Women Community today:
To listen to the EXTRA portion of this show go to RealEstateInvestingForWomenExtra.com
——————————————————
Learn how to create a consistent income stream by only working 5 hours a month the Blissful Investor Way.
Grab my FREE guide at http://www.BlissfulInvestor.com
Moneeka Sawyer is often described as one of the most blissful people you will ever meet.   She has been investing in Real Estate for over 20 years, so has been through all the different cycles of the market.  Still, she has turned $10,000 into over $5,000,000, working only 5-10 hours per MONTH with very little stress.
While building her multi-million dollar business, she has traveled to over 55 countries, dances every single day, supports causes that are important to her, and spends lots of time with her husband of over 20 years.
She is the international best-selling author of the multiple award-winning books "Choose Bliss: The Power and Practice of Joy and Contentment" and "Real Estate Investing for Women: Expert Conversations to Increase Wealth and Happiness the Blissful Way."
Moneeka has been featured on stages including Carnegie Hall and Nasdaq, radio, podcasts such as Achieve Your Goals with Hal Elrod,  and TV stations including ABC, CBS, FOX, and the CW, impacting over 150 million people.