REI Expert Panel Discussion: What You Need To Know About Real Estate Investing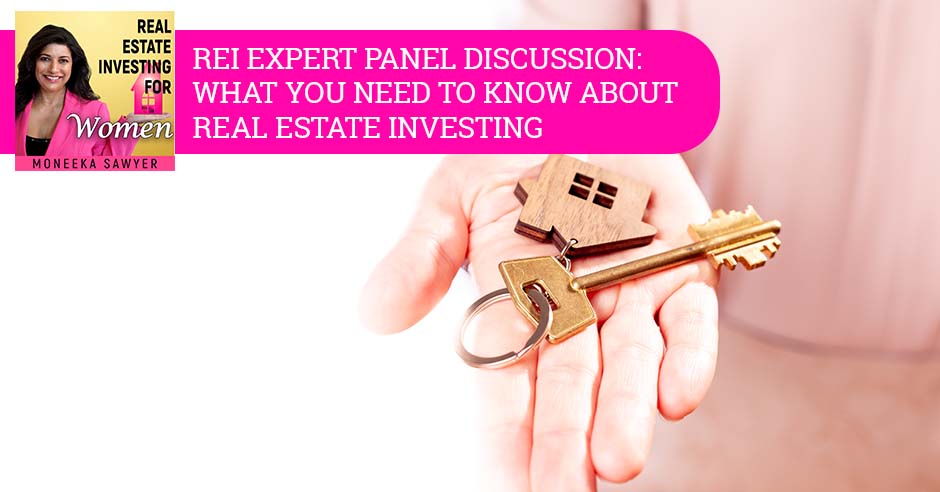 Have you always wanted to get into real estate investing but didn't know where to start? Then this episode is for you. Today, Laura Powers hosts a real estate investing panel with some amazing experts, Henry Washington, Mike Denman, Patricia Berman, and Moneeka Sawyer. Having their fair share of success in real estate investing, the panelists break down barriers to entry in real estate investing. They make it simple and inspire people to know that no matter where you are, it is possible to get started with real estate investing. Enjoy!
—
Watch the episode here
Listen to the podcast here
REI Expert Panel Discussion: What You Need To Know About Real Estate Investing
Real Estate Investing for Women
I was on a real estate panel with some cool people and the conversation was fantastic. I wanted to share that with you. That's what this episode is. I hope you enjoy it.
—
I'm so excited. I'm hosting this Intro to Real Estate Investing Panel with some amazing experts. I'm so excited to have all of our participants and experts here. A little bit about myself. My name is Laura. I'm a psychic medium. I do a lot of different things. I describe myself as a creative entrepreneur. As I started to make more money, I felt the need to learn more about money, how to invest property and how to be smart with money because I didn't have that growing up in my family. It's been something that I had to undertake on my own independently. If you don't know how to handle your money and you get more, you will not accumulate more money, which is the desired goal for up for most people.
Even though I would not describe myself as a real estate investment expert, I'm a novice but I do know all these amazing people that are better at it than I am and that is farther along in their journey. In talking with all of these individuals, I realized they had so much amazing knowledge to share. In particular, focusing on new investors. There are lots of great tips and tools.
It can be somewhat intimidating to start investing in real estate when you're a beginner, so part of my goal for this panel is to try to break it down, make it simple and inspire people to know that no matter where you are, it is possible to get started in real estate investing. That's a little bit about me and why I wanted to host this panel. We're going to introduce the experts one by one and then we'll dive into some questions and answers.
First, I want to introduce Henry Washington. He's an author, entrepreneur and real estate investor with more than 70 rental units and dozens of house flips under his belt. He built his rental portfolio in three and a half years. That's so amazing. I was talking with Henry in my podcast and I said, "This is the length of a Bachelor's degree if you think of the amount of time in your future for a degree." That's what he has done and has these incredible shifts. Henry is the newest co-host of The BiggerPockets Podcast and cast member of the BiggerPockets show On the Market. Thanks so much for being a guest, Henry.
I'm so happy to be here.
Is there anything you'd like to say before we introduce the other guests?
I'm happy to be here. This is super cool what you're doing. I'm very passionate about real estate investing as a vehicle to build wealth. I love how you've mentioned that if you don't learn how to handle your money, your money will handle you. Everybody wealthy owns the property. Even if you don't use real estate to build your wealth, most people then put their wealth into real estate to grow it. I love that you're trying to educate people on how to not only make money but how to continue to have that money grow. Kudos to you.
Thank you. That's a huge goal of mine and with inflation being 9%, it's more important now than ever. We met at this real estate investing track. I was struck by Henry's story and how he didn't have a lot of money saved up. I wanted to give people that background and that's how we connected. It was inspiring to me because I want everyone to know that you can get involved in real estate even if you perceive that you don't have capital. There's always a way. I'm so pleased to have you.
Let's go to Mike Denman. He is an award-winning filmmaker based out of Denver. He's worked in marketing advertising for video games since 2011 and real estate since 2015. He's been at the forefront of technological advancement and connecting people to content through internet apps like Instagram, Facebook, Pinterest, YouTube and many others.
He's adapting his real estate advertising tactics to encourage higher amounts of traffic to short-term rental listings as possible due to his years of iterating the process. He's been a real estate investor for years. We met through the film industry. I have learned that there are a lot of people that are in film and TV that use real estate investing to build a platform, which is amazing. Mike, go ahead.
Real estate is powerful. When we met, your podcast was first starting and you were seeing where all the trajectory went. You realized real estate was a thing that you wanted to get into. I, separately with Patricia, ended up going through the real estate investing side because she was like, "I want to get more into real estate." It's a natural progression but from two different angles.
Mike, I would love to hear if there's anything else you'd like to share.
A fun thing about how we met is we met at the Women in Film & Media Colorado division. It was a female-led organization that still allowed male members. I was part of their marketing committee for a year or something like that. That's when I met you and ultimately, all the trajectories that we've gone. It's interesting because of your trajectory when we met, your podcasts blew up and all of these little pieces of the puzzle.
Having the real estate aspect be something that you found is like, "I'm going to put money into money-making things." This is a surefire approach because everyone knows that you can increase your wealth with real estate. It makes sense that a lot of filmmakers and other people are like, "I have all these things but I don't have a traditional 401(k)." Real estate becomes a cool add-on to it. It's all super fun stuff.
I don't think everyone knows. If you were in creative work, that's often not as reliable as a regular paycheck because you tend to do a lot of freelancing or any other kind of freelancing work where you don't have a regular paycheck, then something like this that can build wealth and have income that's not tied to a paycheck is valuable as well. One of the stats I heard is that the average millionaire has eight or more sources of income. It's also great for diversifying, even if real estate isn't your main thing, what a powerful thing to be able to have at least one of your pockets of income.
Our next guest is Patricia Berman. She's been a real estate investor since 2014. Patricia's real estate journey began in 2014 with purchasing a primary residence and selling it two years later with a nice appreciation, repeating that process while holding the previous primary residences and running them out as long-term rentals. After a long stint investing solely in the Colorado market, she expanded to Iowa, Texas and California.
In 2022, Patricia took her love for hosting and service and dove into short-term rentals. She is successfully doling out hospitality by managing her two vacation properties with her partner, Mike Denman. Patricia is writing a book on leverage and she hopes to help other people find the courage they need to jump into real estate on their terms. Thanks for joining us, Patricia.
There are many ways to dip your toes into real estate, be successful, and get that stream of income happening for you, no matter what you do, no matter what your strengths are.
Click To Tweet
Thank you so much for having me. I'm so excited to be here and talk about real estate. I've spent a lot of time listening to BiggerPockets and realizing that there's a style of real estate for everybody. There are so many ways that you can dip your toes into real estate, be successful and get that stream of income happening for you no matter what you do and what your strengths are.
I found what I love. We are invested in some long-term rentals but short-term rentals have souped up our portfolio. It's not for everybody but I love it. The important message is to find what you love in real estate and do it on your terms. That's what we're doing. I want people out there to know that you can do this and it's important to build wealth.
Another reason I wanted to host this panel specifically is that there are so many different ways to approach real estate. The more I got into it, the more I realized that you could flip, hold for long-term and do long-term rentals. You can do short-term rentals.
Also, house hack.
There are so many different ways like multifamily. It opens that door for people to see the different ways. In your case, you're doing many of these different models. You're not doing just one but based on your personality, one or more approaches might work for you. If you think it's about flipping or short-term rentals to open your idea about the different ways that you can approach this, then find a real estate investing pattern and a method that works for you.
It doesn't have to be one thing or another.
I'm going to introduce Moneeka Sawyer. She is the host of a talk-related podcast, Real Estate Investing For Women. Her expertise and joyous laugh have been featured all over the world in over 50 podcasts, on stages, on radio and TV stations, including ABC, CBS, Fox and The CW. Her multimillion-dollar real estate empire is only one example of her ability to strategize, organize and implement big business plans.
She is the bestselling author of the book, Choose Bliss: The Power and Practice of Joy and Contentment, which has built a multimillion-dollar business through real estate. Moneeka teaches others how to create a blissful and abundant lifestyle. She has traveled to over 55 countries and loves to teach others. I'd love to start with a question to the panelists. If you were starting from square one, what do you recommend? You're like, "I've never invested in real estate. Where do I start? What do I do? What do I learn?"
It depends on age but house hacking is one of the best ways to start a real estate portfolio, especially in this market when you're looking at something where interest rates are rising and there's a little bit of uncertainty in the market. Use what you have. When you purchase as a primary residence, you're going to have access to lower interest rates and reduce your overhead by either renting out extra rooms in your house. If you don't want to share a space with other people, you can get up to a four-unit property and rent out the other units.
I am a big fan of house hacking. We even did it as a family where we had one extra room and rented it out to women who were single moms and stuff like that. We've vetted super well and it worked out well for us. We made a lot of lifelong friends that way. That's one of the best ways to get started. There are many but that's my go-to.
There are so many ways to go about it. One of the things that's interesting to me is even when it's a tough market for buying and selling as a whole, it's still a good rental market. Keep that in mind that even if it's harder to buy something, you might be able even more easily to rent it because people that would be buying aren't buying. Either Mike or Henry, I would love to hear your responses too.
My response is the same as Patricia's because that's the trajectory we are going on. What do you think, Henry?
Getting started is super intimidating to people and it's, even more, intimidating given the economic environment. People are concerned, "Am I buying at the top of the market? Am I paying more for the money for higher interest rates? Is there going to be a crash?" This war overseas is pushing prices of commodities up. People are like, "Is this the right time?" The answer is it's always the right time. It's a matter of what and how you buy.
When I'm talking to people about getting started with real estate investing, the majority of it is about your mindset around real estate investing. We've all mentioned it multiple times already in the short time we've been on the show. There are so many different ways to invest. A lot of those ways to invest are going to be more beneficial for one person versus another based on their financial situation.
To be able to tell you this is the best method for you is not easy to do without knowing what your financial situation is or what your super strengths are. What people should focus on is first making a decision, deciding you're going to buy a property, even though you don't know how or you don't have the down payment. Maybe you think you don't have the credit or you can't find the property to buy. All these factors are going to come into play that we will tell ourselves is a reason we can't do something.
Take all that off the table and say, "I am going to buy a property in the next 3, 6 or 12 months," whatever that is for you. You have to make that decision in your mind and heart. Once you are solid on that decision, you'll figure out a way. The show will reveal itself to you. Here are Laura, Patricia and Mike. You'll know something that somebody says about a path that maybe makes sense for you. Patricia talked about house hacking. Maybe somebody who's made the decision to start investing in real estate didn't know about house hacking but now they know.
They're going to go do some research and maybe that's how they get in the game. When you're starting, it's more about deciding. "No matter what, I'm going to figure out how to do this and do it." I promise, once you've truly made that decision and you keep immersing yourself in real estate investing culture, information and knowledge and surrounding yourself with people who are successful real estate investors, you will figure out a way to do it.
There's a way to do it with no money, with some money, with other people's money and when you buy deals on the market or off the market like house hacking. There are short-term and long-term rentals. One of these strategies will make sense for you. You only have to make a decision that you're going to continue to educate and surround yourself with people who are doing it. Until that path reveals itself, you got to go down that path. That's what I tell people who are getting started.
When you keep immersing yourself in real estate, investing culture, information, knowledge, and surrounding yourself with people who are successful real estate investors, you will figure out a way to do it.
Click To Tweet
Forgive me. I'm having a lot of problems too. The universe is saying something and I'm not sure what that is. I heard what Henry was saying and one of the things that I say on my show is goals without action are just dreams. Get out there, take action and create the life of your dreams. What everybody here is stating is first, Henry says you have to make a decision. Everything in our lives starts with a decision and a choice to follow that decision. Once you make that decision, action has to follow because otherwise, it's only words in your head.
I loved what Henry was saying. I'm so sorry that I missed what Mike and Patricia said. It's important that we make a goal and make a choice to take action towards that goal. That's how we create the wealth and the blissful life that we want. I do want to go back and make a couple of comments about what Laura said. She said that most rich people have eight sources of income. Don't misunderstand that by thinking that it was eight sources of income that you work. It's not.
Most of those sources of income are passive and the things that rich people work at are the things that they're passionate about. They'll have one thing maybe that they are passionate about and they pour their heart into but these passive sources of income are what create the wealth. Henry also said that most wealthy people own real estate. That's true. They may not have made their money there but that's where they put their money later, which is what Laura is doing.
She's modeling that for us, which is beautiful. You have to understand that 8 sources of income do not mean you need 8 jobs. Passive income is the key and real estate is the most stable way to get that passive income. The other thing that I want to say is there are 1 million ways to make $1 million in real estate. Choose one. As Patricia says, there are so many.
The action doesn't need to look like you went out now and purchased a property. Listen to podcasts like your podcast, the BiggerPockets Podcast and to all of these successful people who have done it in different ways. When you hear one that makes you excited like, "That sounds great." That's what I did. Even after I had become a real estate investor, I listened to one with Zeona McIntyre and Avery Carl. I was like, "I'm going to get into short-term rentals." You have to listen to your gut and heart but start consuming that information because that's the only way.
That's the only way that you're ever going to learn what the opportunities are out there.
Maybe for some other people, it's not listening to the podcast. Maybe it's going to Meetups because those are another way.
Networking is a big deal. Thank you so much for mentioning that.
Our community of investors is so huge, welcoming and helpful that it's like, "Get in where you fit in."
You have to understand that because someone else is successful does not mean that you have to do it their way. I love what Henry was talking about. He built all of this passive income in three and a half years. I retired myself in fifteen years because that's the goal that I had and the choices that I made from my lifestyle. I traveled to 60 countries during that time. I have all these other things that I love to do.
Although I wanted passive income to retire, it didn't need to happen in three and a half years. I had the time. As you're looking at what is going to fit for you, understand that Moneeka or Patricia and Mike, Henry's way or whatever Laura's way turns out to be, I'm excited to hear, whatever our ways are, it's opportunities for you to learn but it's not necessarily going to reach your goals in your way. The way to stay blissful is to make sure that you understand yourself and create a strategy that supports your joy, as well as your wealth. You can have both. I hope that was what you were looking for, Laura.
The next question that I have is, what is your first real estate investing story? What got you into real estate? How did you get started? Let's start with you, Henry, because one of the reasons to host this panel was to hear your story at Podfest.
I got started a few years ago out of desperation and panic. I had a panic attack because I was freaking out that my wife was going to figure out that I sucked at money and dollars and wasn't going to be able to afford to provide her with the life that she deserved. I came to that conclusion because we got married fairly quickly. I met my wife and then we got married 365 days later. That was a quick physical transition but as far as mentally and financially, those things didn't move as quickly as we did. It's when we decided that we wanted to get married.
I had a wake-up call when we tried to buy a house together. We did all the things. I felt that I did all the things that society tells you to do. I got good grades. I went to school. I got a good degree and a job. I was doing software development and data analytics for Walmart. I was making a great income. We got married and went to buy a house. I'm like, "This is great. I make twice as much as she does. We'll be able to afford this great house."
The bank pretty much called me one day and said, "If you want your wife to be able to buy a house, you can't be on the loan." My credit was so bad. I made money but I didn't have any money. There was $1,000 in my savings account. To a bank, I wasn't bringing anything to the table other than the fact that I had a W-2. That was a big blow to my ego and to me as a person who wanted to provide for my new wife. I got punched in the gut as far as my ability to be able to do that. I had another wake-up call when we were having a conversation one night.
My wife bought that house and allowed me to live with her. Once we moved in, we did the other thing that married couples do, which is talk about your future, kids, dream houses, vacations and things. That's supposed to be a fun conversation and it wasn't. For me, I was terrified because I was like, "It's a dream house but we barely got in this house. I don't know how to dream house is going to go." I knew I couldn't afford it.
It was a starter home. It was a nice home but it was small. After that conversation, we went to bed and I woke up at 3:00 in the morning sweating and panicking because I knew she deserved things that I had no idea how to afford. I had $1,000 in my savings account. I had bad credit, so I did what anybody would do. I started googling, "How can I make some extra money?" That brought me to discovering terms like passive income.
I was like, "How can I make extra money without doing anything?" I started googling how to make passive income and that led me to articles on BiggerPockets and YouTube videos around people who invest in real estate. That was the first time I heard that real estate investing was something that normal people did. Up until that point, I assumed that super-rich people in big companies and things owned real estate and that's the way it worked. It was an eye-opening moment for me to see that normal people with jobs, kids and families are owning property and they do it all the time across the country. It was mind-blowing to me.
Everything in our lives starts with a decision and a choice to follow that decision. Once you make that decision, action has to follow because otherwise, it's just words in your head.
Click To Tweet
I ended up watching this TED Talk from this kid who was 27 years old and had 27 properties. The whole goal of the talk was he was financially free and he used rental properties to get there. I was like, "If this kid figured out how to buy twenty houses and be financially free, I could do it." I went like, "I'll do that." With my bad credit and $1,000 in my savings account and being denied the loan for the house that I was living in at the time, I decided at 3:00 in the morning that I was going to buy real estate. That's what I did. I woke up my wife and said, "We're going to be real estate investors." She was like, "Let's do it."
I didn't know how to do it but I had made a decision. When you decide something, the suffix of the word decide is cide, like suicide. It means to kill off. There's no other option but to do it when you make a decision. Once I did that, I was like, "I'll go find people who do it and hang around them a lot until I figured out how to do it." That's when I discovered REIA meetings and real estate Meetups. If there was a meeting in my area, I got in the room every single week or month consistently. I wanted to learn and surround myself with people who were doing it so I could learn how to do it.
Between that, I was telling people that I was a real estate investor with only $1,000 and bad credit. I'm a believer that the universe gives you what you put out. If you don't put out there that it's what you are and that's what you want, why is anybody else going to believe you? Why are the things that you're looking for going to find you? They have no reason to. I was like, "I'll tell people I'm an investor. Hopefully, that brings me the thing that I want." That's 100% how I found my first deal.
Somebody who heard that I was a real estate investor was a friend of mine. He was like, "I heard you're buying property. I got to sell this house in 30 days. Can you buy it?" I was like, "I can buy it." I had no clue how to buy it. I ended up putting that property under contract and found out how to do that because I googled how to buy a house without a real estate agent. It said, "Put it under contract." I googled, "What's a real estate contract?" I downloaded one, changed the names and we signed it. That's a terrible idea and people shouldn't do it but I did it. I was like, "I'm going to figure this out."
I had to buy it and take it to a bank. The bank said they'd give me money as long as I had 15% of the down payment. They said, "Do you have it?" I was like, "For sure, I have it." I didn't have that either. I had to go to my group. That was the power of networking. You mentioned that networking is so powerful and I 100% agree. People don't leverage networking enough. Everybody goes to 1 meeting or 2 and they network but that's not networking. That's only going to 1 meeting or 2.
Networking is consistently showing up and being around everyone who's doing the things that you're doing. It's not only going to 1 meeting or 2. It's committing to being consistently in those circles because the more consistent you are in those circles, the more people see you as an expert, the more the universe is going to send the right people in deals and things your way. I was so consistently in this group that I had this network of friends.
This investor group is so helpful. They want to see you succeed. People want to help you out. You hear wholesalers say, "Somebody is going to steal your deal." It's not like that in real estate. It's more, so somebody is going to help you make money on your deal. Everybody's so helpful. I went to my network and I was like, "I got this house. It's a great deal. I don't know how to buy it. How are you buying it?"
They talked me through how to go find the money. Somebody said he could leverage a 401(k) to buy it. I was like, "I will have to go find a 401(k)." My wife had the 401(k). I went to her and I was like, "Remember that time I said we're going to buy a property? We need to borrow $20,000 from your 401(k) to buy this house." She said, "Let's do it." We bought the house. The bank called after we bought it and said, "That house had a bunch of equity. We'll give you a line of credit on the equity so you can go buy more deals."
I went from a panic attack to owning a house 90 days later and the bank calling me and saying, "Here's $20,000 to go do it again." That is mind-blowing when you're panicking about money 90 days before that. That's my intro to real estate investing and what changed my life. Once I bought that first one and I saw how powerful it was, I said, "I'm going to buy as many as I can as fast as I can." That's how we got into it.
It was such an inspiring story. That was a big motivation for me to host this particular panel. I love this because so much of this is about faith. It's about making a decision that something's going to happen, even if there is the perceived idea that you don't have the resources or you don't know how. Also, get in the room. Connect to the people that are doing it. Learn from them and get connected with a supportive network. I'd love to ask that same question to Moneeka. Can you share your intro story to how you got into real estate investing and what happened to you?
My intro story to real estate happened before I was born. It started with my parents. They had an arranged marriage in India, came to this country with $200 in their pocket and didn't know each other very well. Suddenly, they're starting a new life because things were bad in India. They wanted a better life for themselves and their family. One of the things my dad had heard was that the golden ticket to wealth in the United States was to buy real estate. They're thinking about this. They want to buy a primary residence.
My mom's a doctor and my dad's an engineer. My mom is saving all of her nickels and dimes that she makes. She's sewing little cushions for her sofa that she made. She's making curtains. Imagine this doctor doing all these things and saving every nickel and dime so that they can buy real estate because that's the dream. I was born 2 years later as their 1st child. Filled with that feeling of love, joy and hope for this new baby, they finally bought their first home. They bought their primary residence and then also an investment property soon after that.
They bought their primary residence when I was born. Three years later, they started their investing journey. It's been my whole life. Fast forward fifteen years, they were able to pay for my college education and my wedding with real estate. They did the same for both of my sisters. My whole life, I had seen what real estate could do. I'd also seen my dad's stress with tenants not paying rent, dealing with the different mortgages and juggling all the different phone calls from their tenants, the toilets and the termites. We hear about this stuff and this is what scares people away from it. I saw that.
I have to tell you, I had dug my heels in. I was like, "I do not want that life." One of these things that I learned about real estate was it's a long game. You want to be in there for a long time. If I was going to do a long game, I was not going to do something that was going to be miserable. I was clear on that. I decided, "No, thank you." I graduated from college during a recession. I couldn't find a job. I had a great degree from UC Berkeley.
I remember one day sitting with my dad and I'm like, "How am I going to do the adulting thing? What's going to happen to me?" My dad said something to me that night that changed everything. He said, "Do you know, Moneeka? Everybody has stress, fear and money problems. Do you want poor people's money problems or do you want rich people's money problems?" My first thought was, "Do rich people have money problems?" They do but they are better problems.
My whole mindset changed. It was like, "I want this." I got a low-paying job. I took whatever I could get. I swallowed my pride with a UC Berkeley degree. I did what my mom did. I started saving nickels and dimes so that I could buy my first piece of real estate. In the meantime, I fell in love. My sweet husband and I decided we wanted real estate. For our wedding, we asked everybody no gifts. We wanted a down payment for the house. Everybody gave us money.
We put together $10,000 and then went for an FHA loan. We've tried that but it didn't work for us. We put down 5% on a $200,000 property. We were broke but we had this house. This is how we got it. In those days, we called house hacking getting a roommate. We got a roommate and that's how we afforded our first house. We lived with this roommate for a few years. We got an equity line on the home once it had appreciated and then did it again. We rented this out.
That's how we got started and the rest is history. My very first rental home was a nightmare. It was like my dad's because that's what I had learned. That's what had been modeled for me. We sold that first property. My husband's like, "You are so going to regret this," and he was not wrong. We got rid of that property because I was like, "I can't stand this headache," but then with the next one, I realized what real estate could do for us.
Just because someone else is successful does not mean you have to do it their way.
Click To Tweet
Henry, thank you for that decision idea. I made another decision that this was going to be the thing that I did but it was going to be happy for me. I was going to create my model. I was going to streamline my processes. I was going to create something that I could live with for the rest of my life, which is what I did. That's how I began. For the first 4, 5 and 6 years, I would buy a primary residence because they're the easiest to get into. They require the lowest down payment. The loans are easy to qualify for. You have to pay rent, so you might as well pay yourself.
I buy another primary residence and then rent that out. That's how I got started until, eventually, I had enough equity in my homes that I could go shopping. It was like a monopoly. "I can go buy ten," but it took a little time to get there and I had given myself the time. I wanted to do this in a way that felt good to me. That was my journey.
It's important to focus on doing whatever you need to and get it going. It may not feel easy in the beginning. When you're starting something new, there's a certain amount of resistance you have to work through. That's one hard part. The other thing is making decisions that may be in the short-term don't feel the best but in the long-term are going to be beneficial. You have this pocket of money and put it into the house, so you don't have that money anymore. That can feel not so great. You're like, "I don't have that $10,000," or whatever it is that you put into a house or, "I'm getting a roommate."
In the long-term, that's going to be a good decision. Not to get too caught up in whatever's happening at the moment. If it fits into your long-term vision for yourself, know that it can be worthwhile. It was on another podcast interview where you talked about how when the recession hit, the housing crashed. You made the tough decision to move out of your house and rent it so that you could keep it. That was not easy but in the long-term, it was a great decision for you.
There's no clear path to wealth. One of my coaches said to me, "The person with the most flexibility wins." The word pivot was used during the pandemic a lot. If you're able to dance with what's happening out there in the world and your life, you're going to be able to create more of that wealth more easily. Many people that were in my situation lost everything. I lost several million dollars in six months in 2008 in 2009 but I made some different decisions than other people. I didn't freak out, get scared or think the market was ever going to come back.
I decided, "This sucks. What am I going to do?" What I was going to do was hold my properties and figure out how to make it work. All of us have choices in every moment. Our knowledge, as Henry, Patricia, Mike and everybody's talking about is to get educated. As you're in those environments hearing the conversations and you've got that education, it makes it a lot easier to do that dance, pivot and change your strategy based on what's going on. You've got a wealth of information that'll help you to build your financial wealth.
That story made me want to give your mom a big hug. To come over here with $250 and she started saving her nickels to help buy that property, I want to hug that lady.
My parents are amazing. I'm so blessed.
Another thing to stress is it seems to me there is likely to be another recession here with inflation being so high. We'll see how long and serious this goes but it still can be a good time for you. That doesn't mean that it's not a time to be in real estate or you're going to lose everything. You have to be aware and make smart decisions based on what's happening.
With that determination and will, you can still make it work even in this perceived challenging time. Most millionaires are made and billionaires too, often in times of economic downturn. What is challenging in some ways is a bigger opportunity in different ways. Much of this is about reframing as well.
Real estate is the best recession-resistant vehicle to invest in because rents go up as inflation goes up. There are other factors too. That's oversimplifying it but real estate is the vehicle that can help us to weather that inflation storm, depending on how you invest.
We were talking before about how everybody needs a place to live. Maybe eventually it'll be fully in VR and that won't even be the case but at least for the perceived future, people need a place to live. People will always need that, whereas other things are negotiable. You need food and a place to live.
Real estate is a finite resource. A lot of people don't realize that, especially in areas where growth has already happened and there are restrictions on open space and building. Considering the idea that it's a finite resource, you got to get yours.
Where people can work from remotely anywhere, it's opened up a lot more different real estate markets that people hadn't necessarily considered living in before because they're like, "It's not accessible to my job." These rural markets have amazing and affordable properties. Even when we went out to Iowa and we started doing our long-terms in Iowa, it was this scary first out-of-state thing. It was freaky but it works out because different areas have different regional economics. Ultimately, you can invest with lower amounts of money but still bring in some cashflow.
We cashflow beautifully on properties that we purchased for $125,000 each. People need places to live. They need nice, beautiful spaces. To build on what Henry and Moneeka said, it's important in real estate. You want to sit with yourself and figure out what your strengths and weaknesses are. What do you want to do? What energizes you? The best way to be successful is to be authentically yourself. I try to tell people this all the time. Be authentically yourself. It's a struggle for us. Every day, I'm wondering, "Maybe I should do this but that doesn't suit me." I'm trying to always center back on being authentically ourselves. When you are, you have more potential to get further.
I'll comment on the whole flexibility thing. If you're ultimately not a real estate investor and you think about being flexible, it's that uncomfortability of having a roommate or those things where you wouldn't necessarily normally do it. If you move out of your house for a little while, which we've all done, you move out of your primary into another primary, you get that primary going, the house is where you make a home at that moment and it's a thing you'd build on, you get a little bit uncomfortable for some periods. You have to be okay with some of those levels of comfort. It's like, "You can go a couple of years without having a walk-in closet that you love." If you have a place that you are like, "This is going to be great to rent out," spend a year there and then move on to the next property.
Wealth is built outside of your comfort zone.
One of the things I tell my tenants is, "You're paying my mortgage. She can sit there paying your own." I tell my tenants to leave me. I'm telling everybody, "Leave your landlord," because you're going to pay somebody's mortgage. When the recession got tough, my husband lost his job and stuff like that, when we moved out of our dream home, where we built our whole life together. We finally bought our dream home and then we needed to rent it out.
The more consistent you're in networking, the more people see you as an expert, and the more the universe will send the right people and deals and things you're away.
Click To Tweet
He finally got a job and we moved into a dump. When I walked in there, it smelled like dog pee. Everything inside has been spray-painted gray. It was horrible. I walked in there and broke down crying but it was all we could afford and they will not pay rent. We had to buy it because that's one of my policies. Don't pay somebody else's mortgage. Whatever we could do is what we did and it worked out beautifully in the end. That flexibility thing is so important. It can be your superpower to build that flexibility muscle.
This is good in life, not just real estate investing, if you can see the whole picture. We're getting close to the end of the hour. Patricia and Mike, briefly, if you could share a brief version of your first real estate investment and then we'll wrap up.
I'm originally from New York. I grew up in Brooklyn. This is a very rent culture city. Unless your parents had generational wealth and had a home that they owned already, you typically rented and don't buy because it seems so daunting and scary. I moved out to Colorado in 2011. I purchased my first home ever in the beginning of 2012 for $305,000. Two years later, we sold it for $400,000. Even to purchase that house, I took a loan against my 401(k) to make that happen. I love paying myself back.
Henry said I didn't know how I was going to fund the down payment. I thought I would take money out of the disbursement but I was researching and found out you can take a loan against your 401(k). You pay yourself back with interest and I was all about that life. I also learned that it doesn't hit your debt-to-income ratio. That's a small tidbit for people out there.
I was bit by the bug. I bought another place in 2014 for $245,000. I sold it 2 years later for $320,000. I was like, "I am getting into real estate." I made that decision because this was working out. Why wouldn't you get into real estate? This is crazy. The Colorado market had risen quite a bit and it continues to appreciate year over year for crazy numbers. That's where it was.
I started by renting out a room. We then moved out and bought another place and rented that place out. We moved out of that one and rented that place out. That's how we built our real estate portfolio and gained access to home equity lines of credit. That's how our journey began. In 2021, we sold one of our most appreciating properties.
We jumped into the short-term rental market with a lot of appreciation that we had gained on one of the houses that we owned in Golden. Here we are and we're doing well. We own two short-term rental properties plus our long-term. We plan on continuing this journey of purchasing long-term and maybe purchasing another luxury short-term rental.
I do advertising mostly for video games and real estate as well because I like it. When she started doing short-term rentals and came to me saying, "I'm not getting any bookings," I was like, "It's okay. I'll run some ads." She's like, "Don't tell me it's okay."
"What are you talking about? Do you know what the mortgage is?"
I'm like, "That's all good." I've been running advertising on Facebook, Instagram and different things like that for so long, especially for real estate. I was like, "This is going to be easy." I started running ads for short-term rentals and it got easy. We were able to bring in massive amounts of people and increased our Law of Averages to get bookings.
I have this lever I can turn on and off and she feels like, "We're getting views and bookings. I feel like it's normal." I'm like, "It's cool." I've been able to take that, create a system, help out a bunch of other short-term rental hosts and develop even advertising methodologies for them to follow us that way so they can find success on their own. I've pivoted my business a little bit to focus more on that in 2022.
I wrote a book, How to Excel at Short Term Rental: Advertising. I have a whole bunch of things happening in the real estate investing side of things, shifted and pivoted more of my day job focus and then I'm like, "I have more fun and a little bit more exciting times. I get to talk to all these cool real estate investors." Instead of making the videos for real estate investors who are 20-year-old kids who learned how to wholesale at 18 and have 30 properties, which is amazing.
I was like, "I don't know how to do that." To Henry's point, I was like, "You have to surround yourself with these people." Ultimately, when you start talking to other investors and we find the different flavors of real estate, there are all these things that you can end up benefiting from by providing services for it.
I'm glad that you brought up short-term rentals because that's a viable option. It's a very different business model but I was talking with a friend here in Las Vegas who has three short-term rentals that bring in about $1 million a year. It can be real income. You have to know the rules and everything. In certain places, it's allowed and not allowed. Do whatever you need to do to make sure that it's legal but it can be a viable path to income.
There's been a huge influx of investors who were rushing to short-term rentals but that's where Mike comes in because if you're treating it like a business, you should be advertising it. The more people who see your property is casting a wider net of people who are likely to book your property without waiting on the platform to get you invested.
There's going to be a lot of cross-pollination within the panel itself. I'm excited for all of you to connect. I was like, "I can't wait for you all to meet each other." For anyone who's reading, I love these panels. You and everyone can already see how amazing all of these individuals are. They have so much knowledge in different areas and backgrounds, which I love.
If you want to further your connection and learn more about real estate, I'm hosting an 11th-Month Real Estate Magical Mastermind. I'm calling it magical because I know that it will be. All these fabulous panelists are experts in the class. I'd love to have you. You can find out more about that on PowersHour.biz. You can look under the classes.
Feel free to reach out if you have any questions about it. It's at [email protected] to contact me. I want to thank all of you so much for your time. I'm excited to see what happens, hear more about your journeys and learn more. Even though I'm posting this real estate class, I'm learning from all of you and I'm so grateful. Everyone's going to learn from you as well. Any final closing thoughts that you have that you want to give out to people as we wrap up? I'll start with Moneeka.
The best way to be successful is to be authentically yourself.
Click To Tweet
I already gave you my closing. Goals without action are just dreams, so take action. I do have one other thing that I want to mention that is very relevant because we're not all real estate investors. Remember that bliss is your birthright, so choose bliss every single day.
Henry, how about you?
I gave some mindset at the top of the show to talk about how to get started. I'll give some tactical at the bottom of the show. Actual tactical things you can do to get started investing in real estate. You have to put the blinders on because it's so flexible. There are so many ways to get started. It's going to be overwhelming. There are so many options for you. Find the lowest common denominator among all the options and that is typically always going to be a good deal. It doesn't matter how you're going to monetize a property.
If you're going to flip it, rent it, short-term rental, long-term rental, wholesale or wholetail it, all of these strategies require you to buy something at a discount that's a good enough deal so that when you add value to it by fixing it up, putting tenants in it or furnishing it and renting it out, you can turn a profit. If the lowest common denominator is finding a good deal, then that's where your focus should be. Don't worry about all the other stuff like who's going to finance it, who's going to work on it, who's the contractor going to be, who's the title company or who's the real estate agent. None of those things matter until you find a deal.
Find a deal. Figure out what a good deal looks like in the market. If you're looking to buy real estate, you can do that simply by networking and asking people what they're buying. Figure out how you're going to find those good deals. You can google, "How do I find under-market value real estate deals?" You'll get a ton of options. It's direct mail, cold calls, on the market or off the market. There are all these strategies.
Pick the one that you think you can implement the easiest that you can apply the right amount of money and time to. Do it relentlessly consistently until you get a deal. Once you get a deal, you'll be so motivated to go figure all that other stuff out that I've mentioned before because you'll have that thing in your hand that you so worked hard for. People will line up to give you those resources because you've brought them something of substance. Take everything off the table, put your blinders on, figure out what a good deal looks like and be relentlessly consistent about finding one until you do.
Patricia and Mike, any closing thoughts for the two of you?
Be authentically yourself. Sit with yourself for a little while and figure out what your strengths and weaknesses are. What do you like to do as it relates to real estate? What do you think you want to do? What are you willing to try? Take action on those things. Learn more about how you can get involved. If you try something and you don't like it, you don't have to stick with it. There are so many different ways to get involved. Most importantly, start educating yourself about the different ways or what it is you want to do.
In the corporate world, Patricia, we call that a SWOT Analysis. You sit down and do your strengths, weaknesses, opportunities and threats. You write them all down. That is your point of attack.
Also, make the decision. "I'm going to get involved in real estate." That's what you got to do. Don't lose yourself in it.
One thing I'll leave off with is even after you've dove into something, it's okay to spaghetti test. Everything is a test. It's not anything you have to commit to. I try a bunch of things at once. I see what sticks, resonates and reflects the value that we have. The reality of investing in the short-term and long-term where we hadn't done that in 2022 is a freaky thing. Be like, "I know systems that work and the ways in which we can increase some of the viability of it."
As you go into something, there are always ways that you can increase its effectiveness of it. You can get more investors to even add to it. It syndicates. There are all these things that you can do with other people's money, like seller financing options. Finding those off-market deals and getting people to even be involved and you renting from the person who owns it. You are paying them their actual fee instead of a bank and you take over the actual deed later on. There is all this different stuff that takes conversation and trying it out. Explore and be unafraid to try new things.
Everyone, thanks for participating. I appreciate your time and energy. I'm excited about the mastermind.
Thank you for having us.
If you'd like more information about me, you can go to my website, PowersHour.biz. You can find me on Twitter @ThatLauraPowers, Instagram @LauraPowers44 and also on Facebook. Thanks for reading.
 Important Links
Love the show? Subscribe, rate, review, and share!
Join the Real Estate Investing for Women Community today:
——————————————————
To listen to the EXTRA portion of this show go to RealEstateInvestingForWomenExtra.com
Learn how to create a consistent income stream by only working 5 hours a month the Blissful Investor Way.
Grab my FREE guide at http://www.BlissfulInvestor.com
Moneeka Sawyer is often described as one of the most blissful people you will ever meet.   She has been investing in Real Estate for over 20 years, so has been through all the different cycles of the market.  Still, she has turned $10,000 into over $5,000,000, working only 5-10 hours per MONTH with very little stress.
While building her multi-million dollar business, she has traveled to over 55 countries, dances every single day, supports causes that are important to her, and spends lots of time with her husband of over 20 years.
She is the international best-selling author of the multiple award-winning books "Choose Bliss: The Power and Practice of Joy and Contentment" and "Real Estate Investing for Women: Expert Conversations to Increase Wealth and Happiness the Blissful Way."
Moneeka has been featured on stages including Carnegie Hall and Nasdaq, radio, podcasts such as Achieve Your Goals with Hal Elrod,  and TV stations including ABC, CBS, FOX, and the CW, impacting over 150 million people.