Sallie Wagner: Increasing Your Real Estate Investments With Physical, Mental, And Social Resilience – Real Estate Women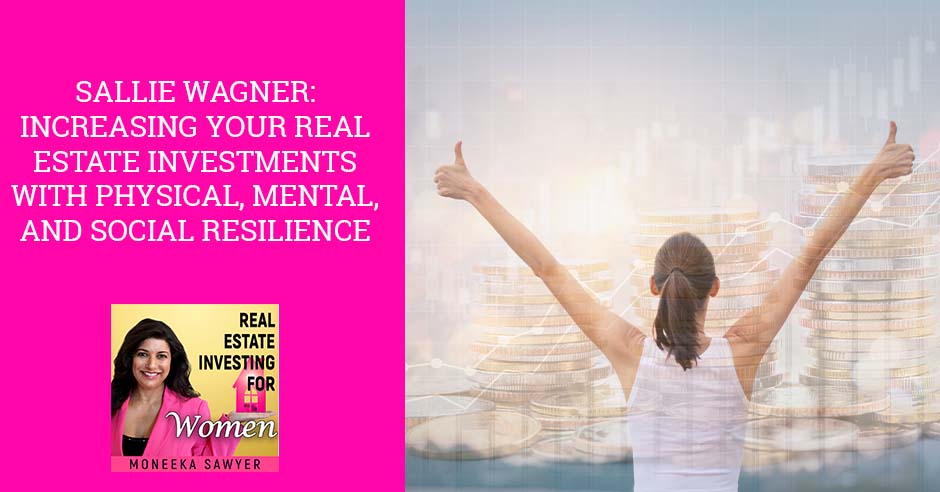 Mindset is everything. It is one of the ingredients that draws success. In today's episode, Sallie Wagner, a number one international bestselling author, shares the tools she used to increase her real estate investments. Without taking action with the right mindset and skillset, we wouldn't be able to reach our path to success. In this conversation, Sallie shares that social resilience is the driving factor in building your network and an outlet to ask for help or to provide help when needed. If you wish to increase your real estate investments, tune in now to this episode and learn more from Sallie!
—
Watch the episode here
Listen to the podcast here
Sallie Wagner: Increasing Your Real Estate Investments With Physical, Mental, And Social Resilience – Real Estate Women
Real Estate Investing For Women
I am excited to welcome to the show, Sallie Wagner. She is a number one international bestselling author, lawyer, real estate broker, speaker, and life alchemist. She provides broker and contracts compliance consulting services to 2,500 plus real estate agents throughout Florida. She also owns and operates a real estate school. Her powerful transformation tools include the Emotional Freedom Technique, which you guys have heard EFT, and Neuro-Linguistic Programming, NLP, clients move into action for rapid concrete results. Clients reclaim conscious choices in their lives and discover and live the life that makes them come alive. Welcome to the show, Sallie. How are you?
I'm fabulous. Thank you so much for having me.
I have been looking forward to this show. I love my mindset shows, and the strategy shows are important but I'm all about the mindset with the Blissful Investor thing. Could you give us a high-level version of how you got to where you are? Why are you doing real estate, and why are you taking this angle?
I spent most of my career in the corporate world positions like general counsel, house counsel, and those things primarily real estate related. I worked for big corporations managing and working on real estate transactions. I have always been involved in real estate throughout my decades, long career, longer than I care to admit. When I looked at going out on my own, it was natural that I would start doing something in real estate. That's how I started my own business providing compliance services to real estate brokerages. I teamed up with my colleague now. We do broker and compliance services to brokerages throughout Florida.
Talk to us a little bit about why you chose mindset as the thing that you want to talk about now. I know how important it is. Why is that your highlight?
Everything comes from that. Bob Proctor said, "It's 95% mindset and 5% what you do." It all starts with a mindset. When you think about it, it makes sense because mindset includes the stories we tell ourselves about ourselves. We have this constant chatter. What are the things you are telling yourself? Are they things about, "I'm successful, productive, and powerful? I can be in business on my own," or is it the snarky six-year-old who is going, "What are you smoking? What are you thinking about?" You wish you could do all those things. It all starts with a mindset.
If I may, I do a lot with critical thinking, and there's a progression. It will sound familiar to people, I'm sure but thoughts determine feelings, feelings determine decisions, decisions determine actions, actions determine results, and results reinforce those thoughts. Everything starts with thoughts. Everything starts with a mindset.
Thoughts determine feelings; feelings determine decisions; decisions determine actions; actions determine results; and results reinforce those thoughts. So everything starts with thoughts. Everything starts with a mindset.
Click To Tweet
I was having a conversation with a woman. We are starting to invest in some different things. My husband handles the stock portfolio. I handle the real estate portfolio but I'm interested in some other explorations now. There are many new opportunities. I want to discover all this stuff. I'm talking to this one woman about some of this stuff, and she has a mastermind that they have developed. It's three women. One of the women is very wealthy. She was like, "I will put $400,000 into this investment." It makes me choke. I can't imagine putting $400,000 into anything that's not real estate. Anything that's liquid but that's silliness too.
She was funny because she said, "Hanging out with this woman, my mind has completely changed. I look at things in a different way and make quicker decisions. I have a lot more confidence in my decisions, and I'm not derailed by people around me that are telling me that it's not going to work or they are expressing all of their fears and projecting those onto me in my decision-making process."
I was proud of her. There were two big things that I took away from that. I didn't need to share with her. She was doing a great job but those two things that I loved were understanding that your mindset is going to determine your success for all of the reasons that you said. The second thing is that your mindset will evolve based on the people that you hang out with. Much of the time, people out there are scared of real estate, the stock market, and all these other things because they don't know, and that's fair.
It's because they are scared, it does not mean that when they share their fear and impose that on you or project it on you, you have to take that on. You need to be around people that are going to uplift your mindset and support your goals. If there are people that are where you want to be, and they say, "That's not a good idea," that's the person you listen to. You want to listen to your mentors, coaches, and people that are successful in the industry that you are looking to be successful in. In general, most of us don't understand.
I experience fear around crypto, NFTs, and all these words that I don't understand but because I understand that I don't want other people projecting their fear onto me, I'm careful not to project my fear around those things onto people that are successful at that or starting out in that. My only suggestion is to make sure that your mentor, where you are learning, is someone who is where you want to be. They have experienced success over the long-term.
Even crypto has been around for several years. People can have gone through cycles and experienced the roller coaster that Bitcoin is. Whatever it is that you are investing in, don't take on there. Hang out with the right people but your mindset is the first place because if you are not in the right mindset, those people are not going to want to hang out with you.
Isn't that true? If you were, "I'm scared. I don't want to do it. I can't take action. This won't work," and all those things. Those people don't want to hang out with you because you pull them down. We always want to hang out with people who are our equals or our peers and learn from one another. The one thing that you do not want to be bringing to the table is negativity.
I hijacked that but that's why I'm excited about this conversation. Not only because it's you, Sallie, and I'm excited to talk to you but I had this conversation and saw the level of success that is created by managing that mindset. Talk to me about some of the tools that you use. We are going to be talking about the tools of the business but the tools that you use for your mindset.
I use the acronym M*S*G, Mindset, Skillset, Get Off Your Asset. It gets a chuckle. It's memorable and brings together some important principles. As important as mindset is, most of us are not taught to have that right mindset. If anything, we are taught not to because, as you said, we have all these messages from people around us. We are constantly bombarded with society, family, and friends. Most of them are all well-meaning, and yet, it changes our mindset to one that is suboptimal.
We're constantly bombarded by society, family, and friends, which changes our mindset to suboptimal. To have that mindset, many times, we need a new skill set. We need to learn skills about how we identify mindset. How do we change it?
Click To Tweet
To have that mindset, many times, we need a new skillset. We need to learn skills about how we identify mindset. How do we change it? How do we maintain it? How do we make sure we are in the room with the right people? If you are in a room and you are the smartest, prettiest, funniest, and most successful, you are probably in the wrong room.
It feels super good. It's a great ego boost. You will learn in every room. I don't want to say you are not going to learn but you are going to be elevated if you are in a different room.
That's part of the skillset to learn that and to listen to those mentors and people who are where you are planning to be because it is a plan and goal. You are going to get there. It's a strategy. It's not hope. It's not wishing people who are where you are going. Those are the people you want to be around. You want to cultivate that mindset of openness to be able to receive that information instead of being close and going, "I know that. I have tried and done that. It didn't work." How many people do we hear like that? That's a skillset.
I want to go back to that, Sallie. That is super important. I want to highlight it. Many of you ladies have heard this stuff before. You have even read it on my show before. There's nothing new under the sun, ladies. It's all said in different ways. There are new techniques that are altered, adjusted, and brought to the market and in our minds.
We have EFT on this show a lot. People were like, "I heard that on Moneeka's show," and then they will tune out. The thing is that if you are hearing it from a different voice, other things may click with you. The last EFT person that was on the show was in 2021, and she did a process for us. Maybe that didn't work for you but you are a different person now than you were before. Your response to that technique may be different or maybe Sallie does it a little bit differently because there are different ways, and everybody puts their own personality into the process. That's for the healer as well as for the recipient.
I know you, ladies, are respectful and great but don't tune out because you have heard this before. Stay fully engaged and present. The other thing is that because you've heard something doesn't mean it doesn't work. If you have tried it, you are in a different place now. If you haven't tried it and you've just heard it over and over again, you might consider trying it because nothing happens unless you take action.
I want to highlight that because I have heard it before, and I'm guilty of this all the time too. We have so much stuff coming into our minds and our worlds. The, "I have read it," is a protection mechanism. When you are listening to somebody that you respect, put the I have read it aside and come with a beginner's mind.
I'm holding my hands up. Studies show that when you hold your hands up, your mind is more open. You are more receptive to learning. You are better able to learn and retain information. Be open to knowledge from wherever it comes.
Ladies, you can go to BlissfulInvestor.com, so you can see how she was holding her hands. That was beautiful. Go ahead and keep going.
Skillset, and we have to put it into action. If we don't take action, nothing happens, and nothing changes. That is an important skill to be able to take action because we have that tendency to procrastinate. We all do it. I have written articles on procrastination and how to overcome it. It's a skill that we have learned to cope with certain things. Taking action is a skill that we can also learn to overcome that procrastination. It all goes back to the skillset and the mindset. That allows us to take action and put everything into practice. Otherwise, it's a picture on the vision board.
Part of the skill is learning to be decisive. It's learning to trust yourself. Could you talk a little bit more about some of the skills that helped to build that mindset?
Anything that is resilience related. I speak a lot about resilience. It's such an important thing, and resilience is M*S*G in practice. Four major areas of resilience in our lives, physical, emotional, mental, and social, all come together. As you build physical resilience, your body is more capable. You are better able to withstand the challenges that come to you if it's stress, illness, injury or whatever it is.
There are specific ways to build that with physical activity. If you are sitting for more than an hour, studies show that your body is going to deteriorate. When you are coming up on the hour mark, stand up, move around, take a couple of steps, do something, get into physical activity, avoid negative substances, and binge-restrict behaviors.
The negative substances are not always about alcohol and drugs. It could be caffeine, gluten or whatever. It is harmful to me personally. Binge restrict is not always about eating and drinking. It could be that streaming service, all those things. Emotional resilience is our ability to access our positive emotions when we choose. That's a mindset. We don't get caught in those low-frequency emotions but can choose to respond rather than react to life events.
We have mental resilience. This is our ability to come up with systems and processes that have a different perspective mindset. Access our creativity, come up with creative solutions and consider different people's perspectives on things that are opening our minds to mentors and knowledge. The last one is social resilience, which is our community. Our ability to ask for and give help to others, families, friends, neighbors or everyone in our community. Studies show that the more connected you are to your community, the more successful you are likely to be. All those things that can build resilience are important in life and business.
Could you talk to me a little bit about social resilience and what you mean by people being more successful based on social resilience?
Social resilience is our ability to connect with others, family, friends, society, communities, and groups that we are members of and the ability to know that there is somebody there when you need help, you can ask for help, and they will give it to you like a trusted mentor, for example. That's social resilience. The ability to give help in return. The more connected we are socially, studies show that we tend to be more successful in life and business because we have those networks of people we can call upon. Here is a fun thing. People can build a little bit of social resilience. The next time you have a chance, shake hands with somebody. As you do that, tell them, "Thank you."
I always refer to studies, and studies can say anything. However, the studies show that when we do that, the touch and the expression of gratitude, we produce a hit of oxytocin in our brains, which is the trust hormone. That makes it more likely for us to want to help and support each other in business, life, and whatever ways. The more we do that, the more we deepen that oxytocin trust bond and self-serving. That's a fabulous time to ask somebody for a referral because you have already softened them up with oxytocin.
It has been such a fascinating thing over the pandemic over the last couple of years how our communities have changed dramatically. We spend more of our time on Zoom and less of our time touching one another and saying, "Hello." Even when we see each other and are in each other's energy space, we don't touch each other.
We have changed the way that we socialize. Some of it's certainly going to stick. I couldn't have this interview with you, Sallie, if it weren't for amazing Zoom. I love that. I think that our communities and having that physical, at least being in people's energy space, are important. One of the big keys here that you mentioned, and I want to highlight it, does still need to be the right people. That does not mean you don't hang out with your friends or family. The people that you love certainly have a place in your life and should. It should be valued, loved, and cherished.
When you are thinking about progressing in your business, you also need to have a community that supports that evolution, growth, expansion, open mind, new ideas, and lots of opportunities. You need that community to support you in that way, also. Much of the time, we are social resilience, and we focus on our personal life, like, "I need support because my parents are elderly. I need support because someone I love passed. I got something that I'm dealing with," whatever it is.
I'm not good at asking for help. I'm getting better, and there's a receiving it without feeling guilty. Those are all skillsets too. We are used to it in our personal lives. We tend not to want to do it in our business lives because, as women, we feel like it makes us look stupid. The problem is that if you are afraid of looking stupid, you are going to look stupid because you are not learning. You don't know what you are doing. You are pretending that you are something that you are not. People can see right through that. Did you have anything you wanted to add to that?
I have experienced that myself, and for me, it was perfectionism. That mindset of, "I have to be perfect. If I ask somebody something, that shows I'm not perfect." We miss out on many opportunities because of our mindset. I'm not perfect. More importantly, I don't have to be. Something to remember here is that it's not what you don't know that holds you back. It's what you do know that's not true that holds you back. The idea that I have to be perfect is something that is not true that holds me back in business and life. When we can identify those things, and that's all part of our mindset, then we are open to asking and receiving.
It's not what you don't know that holds you back. What you do know is not true – that's what holds you back.
Click To Tweet
My little sister once said about my nephew because everybody was saying, "There was some stuff going on with him." My little sister said, "He's perfect just the way he is as long as you don't compare him to other people." That is something I take with me so much of the time because I'm like, "I don't know this. I don't want to look dumb. I don't want to ask too many questions."
It is about perfectionism because I remind myself, "You are perfect the way you are, as long as you don't compare yourself to other people." Allow yourself to be who you are because who you are now is you are heading to the next place. There are going to be people that are going to be delighted to help you get there.
Unless you ask questions, you are not going to know if you are hanging out with the right people because there are going to be people that are going to judge you and get snarky. Don't hang out with them. Thank goodness you didn't find that out after several years of investing in that relationship. Find out fast. If they are not going to tolerate your questions, curiosity, personality, and goals, they are not that person that's going to help to elevate you.
That is another thing that brings up one of those things that we know that's not true. Everybody has to like us, so we have to like everybody else. I'm not saying to treat people disrespectfully. However, it's okay if you don't want to be around certain people and they don't want to be around you. Find the people who are supporting you in your goals, accomplishments, and vision of where you are going in life. That's okay. Not everybody is going to be there.
Not only is it okay. It is preferred. We only got 24 hours in a day. You only have a certain amount of time to be social. Make sure it counts. Make sure it is fun and good for you. Make sure it is one of your bliss things, not one of your obligatory things. We only got so much to give. You want to make sure that when you are giving, you are also being nourished, elevated, and all of those things.
Maybe it's me but I had similar conversations. It was such an epiphany when suddenly, it was like, "Not everybody has to like me and I'm okay."
I'm a people pleaser too. I will be like, "The person didn't like me." Now, I give it about five minutes, and then I'm done. It doesn't matter. I allow myself if I'm feeling sad or definitively if I did not have a connection with that person. It felt a little bit bad but then I realized, "That person that I didn't have an affinity with if I tried to build that relationship, how many phone calls, emails, and time would it take to build a relationship with that I don't have an affinity with and how much pressure and work?" If it was a fun person we were aligned with, then we enjoyed spending time together. This show is all about taking action. Let's talk about taking action and creating a plan for building that mindset to achieve certain goals.
There are three things you want to consider with mindset, perspective, reason, and will. With perspective, we have talked about this before. It's our ability to view things from other perspectives. We all probably remember the story of the blind men and the elephant. Each of them experienced the elephant in a different way, with trunk, tail, and tusks, and they defined it in a different way based on their perspective.
Could you tell us that story? I haven't heard that one.
There were 9 or 10 men who were experiencing the elephant. One person had a trunk, a tusk, a tail, and an ear. They were all talking about, "What was the elephant? Describe it." They all described it differently because they had all experienced a different part of the elephant. They were all right because there was the tail. That is what it felt like but they were all wrong because their perspective was incomplete. The truth is that our perspective is always incomplete.
Depending on what our perspective is, it's either going to move you forward or hold you back. Be aware that we tend to have blinders on. That is partly because of our training and how our brains work with the reticular activating system. We see what we are looking for. We don't see what we are not looking for. If you can open that up and take those blinders off, you broaden your perspective. That's all part of the mindset. Become aware of that.
The easiest entry point into mindset is to look at the results you have in your life. If you are happy with those results, perfect. Do more of what you are doing. If there is a result that you are not quite happy with, then the easiest entry point to change that is to look at your thinking about that and change your thinking. All of that, and perhaps the answer as you change your thinking, is to have a different perspective. In LP, we call that reframing. Everybody heard about reframing. Tell yourself a different story, and you are going to get a different result.
It's funny because I will frequently say, "You are always making up stories. Everything that goes up in your mind, you are making up." It's your story. You might as well make up stories that make you feel blissful. Is it stories that make you feel bad?
I have a perfect example if you don't mind. Years ago, I was with a successful real estate agent in this area, and she was doing some lead-gen cold calls. She was starting to make a call. She said, "I'm going to call up my friend, Bob." I'm making up a name. I'm like, "She knows Bob." She called him up, and he hung up on her. It was a cold call. She didn't know this person. I thought from the way she approached it. It was her friend because that is the way she approached it. That was the story she was telling herself about Bob.
When he hung up on her, she was like, "We got disconnected." I'm like, "Are you stupid? He hung up on you. You didn't get disconnected." She called him back and was like, "We got disconnected for some reason. I'm sorry." She tried to talk to him again. He hangs up on her. She was like, "We got disconnected again. He needs a smile. I'm going to ask an agent on her team. I'm going to ask her to go and see him at his house and give him a smile because he needs somebody to make him smile." That's the perspective. That's the story she was telling herself about. She was there to contact her friend, and if her friend was not happy to hear from her, he needed somebody to help him smile. Those are the stories that we can tell ourselves to change our results.
I love that you and I are mindset people, and we are both like, "What?" It's funny because it sounds hokey. Those of us grounded in reality know what's going on but does that help us? I don't want to have fun doing cold calls. I would probably have a lot more fun if I had her attitude. The reality is that we create the story in our heads. We have the story. We create the reality for ourselves. We are not necessarily creating the reality for the world around us. Although many times we are because people take on our energy and start to experience life differently when they are around but you are experiencing your own personal response to any given situation.
That's the emotional resilience to be able to tap into those positive emotions when we choose so that we are responding rather than reacting.
Emotional resilience is being able to tap into positive emotions when we choose so that we can respond rather than react.
Click To Tweet
Let's talk about developing the action steps to achieve specific goals.
That is important because it is not only the goals. It's the system and the process because goals can be overwhelming and intimidating. We look at the goal and think, "How am I ever going to get there?" It's all about reverse engineering goal setting to the present. You ask yourself, and people will recognize this, "What is the one thing I can do that will move me in the direction of that goal?" I break it down into daily steps that will move me in the right direction every single day. It's important to do that because if we're focused on the goal, we're living in a constant state of failure. I'm only successful when I get to the goal.
I'm going to lose 20 pounds. If I have only lost 19 pounds, I'm still a failure because I haven't met the goal but if my goal is to improve my health and nutrition, and I'm doing things every single day, I'm successful every single day because I'm moving in the right direction. Systems and processes over the goals always. Break it down into daily steps. "What am I going to do now that will continue to move me in the right direction?"
That may change from day-to-day because we are going to course correct. It's not always a straight line to that goal. The NASA Apollo moon projects were off course 97% of the time and made it to the moon and back. It was because of that constant course correction. We are always going to be adjusting and correcting our course from day-to-day, and yet, we are still moving in the right direction.
One way that you can launch into action is, first of all, to write your goal and your steps down. When you do that, you increase your chances of success to 56%. There are only three steps. The next step is to share that goal with somebody. You have an accountability partner. Maybe it's your mentor, a coach or whomever but it's an accountability partner because we can't hold ourselves accountable. We have to have somebody else do it. When you do that and come up with those daily action steps, you increase your chances of success to 64%.
The accountability partner should not be someone who is going to be supportive all the time. What I mean by this is that you should be embarrassed if you report that you didn't achieve your goal. Not like so much that you don't want to show up or get the response from the other person that you don't like them anymore. I do think that it's important that you should be embarrassed with your accountability partner to say, "I didn't do it."
You should feel like you have to explain why and what your plan is to catch up. Your accountability partner is not your best buddy where you were both like, "I didn't lose anything last week." "I didn't lose anything last week, either." We might as well get a milkshake. I had those accountability partners. I'm telling you, it has the opposite effect.
It's a weird thing because I have these in my life. It's not that you want to do it for them. Somehow there is something about that relationship that inspires you to be the best you. That is why you do it. Not to please them but to honor yourself. If that makes sense.
You should value their opinion enough that if they say something that's hard to hear, you are able to step back and not get all flustered, offended or defensive. You are able to say, "Maybe they have a point. Let me think about that."
You need to be willing to listen with open hands. Listen so that you are receptive to the learning and without being defensive that you are going to go, "What do they know?" The third piece is to make progress reports back to that accountability partner, which is what you were saying. At least once a week, you are reporting back on your progress over the past week because accountability is key, and the progress report is key. When you do that, you increase your chances of success up to 76%.
You must be willing to listen with open hands to be receptive to learning.
Click To Tweet
I want to say that this isn't hocus-pocus. If you know anybody in corporate, what have they instilled? It's the agile program. They got two-week sprints. At the end of those two weeks on their deadline, they have to report to everybody what they achieved, how they had the course correct, what didn't work, and what did work. If now you found that that system that you guys were all working on isn't working, you have to course correct completely new products and new features.
The whole agile framework is about accountability. That's all it is. They know that they got a two-week window to achieve a certain number of goals. They are given, discussed or created those goals all for themselves and have a whole accountability meeting to figure out what's next. It's done in corporate all the time. I haven't yet met anybody in the last several years that is not on some version of the agile format. It's because we may not be in corporate, and we may not have that experience. You have to create it for yourself. With agile, they do a two-week thing. Sallie is recommending one week. You need to find what works well for you. 1 month or 3 weeks is usually not going to work.
It takes too long in between reports because it is easy not to do it. You think, "I got a whole month before I have to do it." It never happens. You are setting yourself up not to succeed there.
This has been good. Thank you so much.
It's a pleasure.
Ladies, we have a surprise for you in EXTRA. Sallie, who's an NLP master, is going to give us a process. She calls it the Ring of Power, which is stacking anchors so that you can choose different states. We call it in NLP states. A state is like confidence, passion, calm, self-reliance, and joy. There are lots of different states, and you can use these states for different things. I have different Rings of Power for when I'm going on a date with my husband, making cold calls, sitting at my desk, speaking or doing a show.
You can create these different rings that you can hold at different times so that you can use them in your life. We never had anybody do it for you ladies on this show. It's a tool that I use all the time, every day. I got many of them. I'm super excited that she is going to be sharing that with you. It will be a useful tool. I'm excited that Sallie has been generous enough to offer that in EXTRA. Thank you for that.
It's a pleasure.
Sallie, could you tell them a little bit about your free gift?
It is an eBook. It is entitled, Reboot Your Thinking With M*S*G. We have already talked about what M*S*G is. Reboot Your Thinking is a signature coaching program that I develop. This is a little taste of what that is. As we develop the mindset, skillset, and action, we must reboot how we think.
M*S*G is Mindset, Skillset, and Get Off Your Asset. I love that. The URL to go to get this free eBook is BlissfulInvestor.com/reboot. Thank you for that. Are you ready for three rapid-fire questions, Sallie?
I am.
Give us one super tip on getting started investing in real estate.
Start small, and figure out what the market is before you get started.
What is one strategy for being successful as a real estate investor?
Continue to stay knowledgeable about what is going on. Understand the basics and things change, particularly in the area of Fair Housing, which can be very problematic for people.
What specifically are you referring to there?
For a lot of property managers, at least in this area, there are testers in the area, and they are being hit with claims of Fair Housing violations for various reasons. For example, it could be with screening for criminal background checks, service animals, emotional support animals or familial status. Those are the hot-button items that I'm seeing a lot of.
What is one daily practice you do, Sallie, that contributes to your personal success?
It is all around building resilience. I find ways to build resilience in those four areas, physical, emotional, mental, and social, every single day.
Ladies, thank you so much for joining Sallie and me for this portion of this show. If you are subscribed to EXTRA, stay tuned. We got more. We are going to be doing a Ring of Power Process so that you can be powerful in whatever you are doing in your day or business. Stay tuned for that. If you are not subscribed to EXTRA but would like to be, go to RealEstateInvestingForWomenExtra.com, and you can check it out there.
For those of you that are leaving Sallie and me now, thank you so much for joining us, and thank you for all that you are doing in your life and for continuing to stick with me. I love you, ladies. I'm looking forward to seeing you next time. Until then, remember goals without action are dreams. Get out there, take action and create the life your heart deeply desires. I will talk to you soon. Bye.
Important Links
Love the show? Subscribe, rate, review, and share!
Join the Real Estate Investing for Women Community today:
Get Dr. Shaler's free EBook: "How to Spot a Hijackal"  at https://www.forrelationshiphelp.com/help-handling-hijackals-spot-signup/
To listen to the EXTRA portion of this show go to RealEstateInvestingForWomenExtra.com
——————————————————
Learn how to create a consistent income stream by only working 5 hours a month the Blissful Investor Way.
Grab my FREE guide at http://www.BlissfulInvestor.com
Moneeka Sawyer is often described as one of the most blissful people you will ever meet.   She has been investing in Real Estate for over 20 years, so has been through all the different cycles of the market.  Still, she has turned $10,000 into over $5,000,000, working only 5-10 hours per MONTH with very little stress.
While building her multi-million dollar business, she has traveled to over 55 countries, dances every single day, supports causes that are important to her, and spends lots of time with her husband of over 20 years.
She is the international best-selling author of the multiple award-winning books "Choose Bliss: The Power and Practice of Joy and Contentment" and "Real Estate Investing for Women: Expert Conversations to Increase Wealth and Happiness the Blissful Way."
Moneeka has been featured on stages including Carnegie Hall and Nasdaq, radio, podcasts such as Achieve Your Goals with Hal Elrod,  and TV stations including ABC, CBS, FOX, and the CW, impacting over 150 million people.