The Secrets To Dating Money And Having A Friends-With-Benefits Relationship With It With Olympia Hostler – Real Estate Women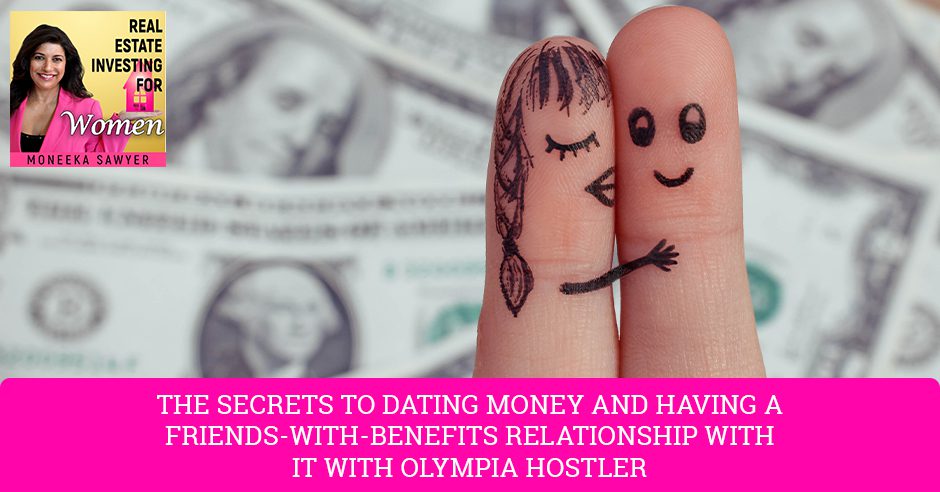 Having a good relationship with money is like finding a date. You have to overcome the fear factor and actually start dating it. You need to cozy up to it until you form a friends-with-benefits relationship with it. How exactly does this apply to the world of real estate? Well, for one thing, it helps that a lot (like a lot) of the people who know anything about money have been involved in real estate in one way or another. Moneeka Sawyer is excited to unpack this topic with Olympia Hostler, an award-winning business consultant and speaker who is known as the "Queen of Wealth." Take a moment to listen to their conversation as Olympia reveals the secrets towards achieving time and financial freedom in the shortest time possible. 
—
Listen to the podcast here
The Secrets To Dating Money And Having A Friends-With-Benefits Relationship With It With Olympia Hostler – Real Estate Women
Real Estate Investing For Women
I am excited to welcome to the show, Olympia Hostler. She loves working in playing in the realm of millions and billions. She is an award-winning business consultant and speaker of Fortune 500 companies. She's a partner and a leader of the highest natural national securities program worth billions of dollars. By the age of 33, she was a corporate executive leading multimillion-dollar programs making more than $50 million in sales, facilitating sales for more than $10 billion, and leading teams of up to 100 people. As the Queen of Wealth, Olympia unshackles business owner's freedom to scale their companies and fast forward their success without working harder or longer on their fastest path to freedom of time and money. Olympia, welcome to the show.  
I'm excited to be here. Thank you so much for having me. 
This conversation is going to be fun. Let's start by giving a version of your story. Tell us about yourself. 
I've done a lot of things in my life. I started out as a corporate executive at 33. That's where we're going to start our chronology. I quickly realized that Corporate America was not for me. I went off and started my own business consulting company. I've been doing that for over 25 years. I've helped all kinds of businesses, products, services and real estate. I've been in real estate for over twenty years as a licensed broker. I've had a partnership with CBS Television in New York for real estate. 
Tell us more about that. 
When we get our unconscious and subconscious mind on board, there are no limits. Freedom is all around us. Everything we do is free.
Click To Tweet
That was super fun. We did a groundbreaking state-of-the-art joint venture partnership and also a website. We spent $1.5 million on the website alone, creating these new searching technologies. We were the first to implement VOW or Virtual Office Website, which is collecting all of the other listings from the other brokerage houses and putting those into our website. We also created the first real estate television show in New York. That's what we did. It was a lot of fun doing it. 
Have you ever noticed that anybody who knows anything about money has been involved in real estate in some way? 
Yes, I have. It's a training ground. 
I read on Instagram that 90% of the millionaires got that way through real estate. It's the original get-rich strategy. I love your topic. This whole thing of money as friends with benefits. I want my money to be friends with benefits. Tell me more. 
To have friends with benefits relationship, first of all, we need to start cozying up to it. We need to stop being afraid of it if there is a fear factor, which many people have, and start dating it. To do that, we need to get rid of the obstacles that are in our way. Those obstacles typically come in the form of mindset, heart set, and body set money blocks, as I call them. These blocks are programmed in from our experiences in life, from the people we've hung around when we were younger, our parents. 
There are all of these blocks have been created. Whether we have created them ourselves or our parents and other well-meaning loved ones, it was their blocks and then we adopted them. The key to having that awesome relationship, friends with benefits, is we have to get rid of that stuff. If you think about it, if you wanted to date people, you have to get over your fear of dating, but you also need to get out of the house. You need to get out and start doing some things. Addressing those core blockages, clearing them, and resetting them is going to be beneficial in your entire life, not just with money. 
Talk to me about unshackling. You can have the business that you want without working longer or harder. 
This is super fun. We started talking about the shackles with our favorite question. The shackles are the ones that we put on ourselves. How are we going to unshackle ourselves? One of the best ways to do it with a business, in particular, and the real estate business is a great example. We have to be able to know what our big worldly why is. Why are you doing what you're doing? That is what will drive you. Why are you doing it for the world if you're doing it for the world? There's a second why that I've created called my self-care why. Why are you doing it for yourself? You might know it, but if you're not in touch and connected with it, then it's a hard road to unshackle yourself because you're always wondering, "What's the point of this? What's the point of that?" If you're not consciously thinking that, you are definitely unconsciously thinking that. It will drive you so you'll never work another day in your life. It'll be fun and play, and who doesn't want that? 
You ask a good question which is, what's more important, time, freedom or money? From my perspective, the freedom of time and money is a thing that I'm reaching for, but I like how you distinguish them separately. Tell me about that. 
We all know that there are different types of resources. Some are non-renewable. They have a finite amount, and that would be time. Money is a renewable resource. You can always get more money. You can never get more time. Freedom spans both. Freedom is very subjective. One person's freedom is not another person's freedom. That one can go either way. Freedom has the potential to always be there. In that regard, it is renewable because it's always there. Whether you're tapping into it or not, that's up to you. 
I would define freedom as time and money. Having enough time and money to do what I want, where I want and with whom I want. 
That's how I define it. Many people will go around and say, "I want freedom." If they haven't defined what it is, then you haven't given your unconscious mind the target. We were speaking earlier about neuro-linguistic programming. When we get our unconscious mind and our subconscious mind on board, there are no limits. Freedom is all around us. Everything we do is free. 
We're talking about this relationship with money. One of the things that happen with investors is they have a house. They want to rent it out. They're like, "What should I ask for the house?" They list it and put up this beautiful ad. They list the price that they think is right in the market and people are not knocking on the doors. The very first thing that they say is, "I priced it too high," which is not the first place that we should be going. The first place we should be going is if you want to think about it, "What is it that I'm saying in my ad that's not attracting the right person for that house," and not, "Is this too high?" Price is only one factor when you're renting out a house. Could you talk to us about this relationship with premium pricing? 
To talk about premium pricing, we need to understand pricing's place in the marketplace. My commercial real estate broker, the first one I ever had who I worked underneath, told me, "Olympia, I can make any deal happen. It's a matter of price, terms and time." It's one of those three. If your price is right, the other two can float. When you're not getting the traffic that you want, I wouldn't go first to price. If you've done your research and you know you're in the money, then stick to your guns. Maybe it's something else. Maybe you haven't painted it. Maybe it needs a fresh coat of paint. Maybe something's happened in the neighborhood and you need to do a little research and know what that is. I would look at many other places before I would look at the price. I would say stick to your guns on the price. 
With commercial real estate, it was price, terms and time. In residential, that whole heart set piece is a big distinguisher on how we view a home. When I'm looking at something and people aren't knocking on my door, I don't immediately go to my is too high because I know, based on what the market conditions are, that I'm not. I've done that research. I'm not evoking an emotional response in the people that are looking to buy a home. A lot of people will say, "I need a three-bedroom, two-bath, this many square feet, this close to my work, this kind of school." They have all their statistics. The reality is that there might be five houses on the market that meet the criteria. What was different?  
It could be some of those things that don't get checked off that's on their list. The biggest thing is, are they having an emotional response to your home that you're providing for them? For me, yes, maybe it needs a coat of paint, but that's all external to the real indicator which is, are they emotionally attached? How can you get them there? Your premium pricing isn't about pricing. It's about their emotional attachment to the product that you're providing. Would you agree with me on that? 
I agree with you. If you can appeal to their five senses when they walk in the door, this was something I used to do when I do open houses. I would always bake chocolate chip cookies. No wonder I was so awesome at sales for real estate. People come in and they automatically get that emotional response. They're like, "I like it already." They haven't even opened their eyes necessarily. If you can appeal to the senses, that's going to go right to the emotions. 
I used to do the cookies thing too until everybody started doing cookies. I don't know who started teaching that. I was doing it long before. That was by mistake. One time, I brought brand new cookies from Mrs. Fields. They are home-cooked cookies. I brought them in and served them, but they were fairly fresh. I hadn't baked them there. People were like, "I love the smell of cookies." I then started baking them. People then started teaching this. I'm like, "Now everybody's doing it." Now I bring stargazer lilies or fragrant candles or something. I might have a fire in the fireplace. It's like touching their senses and some different ways that are a little bit unexpected and make them feel something new. Talk to us about detoxing money blocks. What happens? What do you give up if you won't do it? 
The price you pay for not detoxing your money blocks is a high price because these money blocks are also driving the show for every other area of your life. The program that creates the money blocks is also creating blocks in relationships, spirituality, personal growth, health, all of those areas of life. You're going to have some glitches in more than just your money. Why not take care of the money piece, get squared away, get a clearing done, get a reset done. Once you've reset these programs, they are running in the background just like they are now. Now, they're running in the background. They're running amuck, but you don't think about it. You don't have to give affirmations. It's just happening. Once you change it to a more positive, healthy program, it's as if you flip the switch, then you don't have to think about it. You don't have to say one million affirmations. It's running now. You have your new normal. 
How do you do the detox? I know that we're not supposed to talk about processes but I'm curious.  
I use neuro-linguistic programming. I use trauma recovery techniques because I treat money like a trauma. I'm training from another business that I own in trauma recovery and helping people recover from abuses, accidents, surgeries and pain. I'm using brain science and resetting the nervous system of the body from being in a fight-flight-freeze response. I'm doing that. At the same time, I was changing the program using neuro-linguistic programming. We're resetting false beliefs and limiting decisions. Stuck emotions is a huge one, conflicting parts, and strategies that have gone amuck. It depends on what's happening with the person, which technique we're going to use. Almost always, everyone is going to need a roto-rooter job on the top five stuck emotions. 
What are the top five stuck emotions? 
If you don't have the money you want, you don't even have to look at the symptoms. You have money blocks, period.
Click To Tweet
It's anger, sadness, fear, hurt and guilt. Those are the top five. I was working with a client on this. We've gone through those, and those are just the top five. We then go into the next layer. The next layer is usually some flavor of abandonment, rejection, shame, and those types of things. The top five have to be cleared in order to get to the others because the others are like a house of cards. They're based on those other five. Typically, those are relationships. You knock those legs out and then you are left with these, then those will clear much easier. 
Many of the ladies that are reading this are saying to themselves, "I've done a lot of work on this. I don't have those money blocks." Our money blocks are like blind spots. Even if I look at myself, and as you're talking, I'm thinking, "I've made multiple millions of dollars. I'm a very successful businesswoman. I'm proud of that." I have hit a plateau in my life. It's such an interesting thing. There's the next level for me. I'm trying to figure out how to get there. I realized that I've dealt with a lot of my money blocks, but there's more to go because otherwise, I wouldn't be at a plateau. What prevents us from seeing those blind spots? Help us to be motivated to look at that because it can be a little bit scary, overwhelming or even intimidating. 
It could be a blind spot because we are not consciously aware of it, or we have been consciously aware of it and we don't want to go through the pain, the challenge or the hardship to clear it. We sweep it under the rug. It doesn't matter which scenario is active. It's the same way to clear it. What happens is the blind spots are there to protect us. It's our nervous system that has activated our fight-flight-freeze response, which causes a lot of things to happen in our mindset, body set and heart set. Things like pumping our body with adrenaline and cortisol. It feels like you've got your finger in a socket 24/7. You're pumped up because your mind, body and heart think that you're going to be chased by a saber-toothed tiger. 
It's the reptilian part of our brain. It's right about here. It's called the amygdala. Welcome to your amygdala. It only knows the input from these five senses. It will determine, "Am I safe or am I in danger?" It can create a blind spot if you're in danger. It's doing that to protect you. What it seems like is self-sabotaging. The key is to go into and calm the nervous system. Once you do that, then we can work on taking these patterns away. If you think about it, if you're running from a saber-toothed tiger and somebody says, "Moneeka, I'd love to give you a hug. Could you please stop? I want to give you $1 million." You're going to go, "No, thank you. I have a tiger chasing me at the moment. I've got to keep going. Give me your number. I'll get back to you." I'm simplifying it but that is what it is. 
How do we notice them? How do we know they're there? 
You have to look more at symptoms for that like, "Am I having a heart attack? Let's go through the checklist." I have a whole checklist called, "You might be a money blocker if," and then all of these things. There's the checklist, "You might be a money blocker if you are not doing all of these other things." It's all kinds of things. As you said, you're at a plateau. That's a sign. That's a symptom. If you're at a plateau, there's a money block happening. Do you wake up to do work and you're resisting? Any resistance toward money or money-making or having fun is a money block. There are many of them. If you don't have the money you want, you don't even have to look at the symptoms. You got money blocks. That's the shortcut. 
Tell us how about how we can rewrite our story with money so that it is a love story with a very happy ending? 
It's so nice because all we need to do is to understand a couple of things. One is, how you do money is a seven-step process. We need to make sure that we go back to the beginning and change it there, then that ripples through, because the love story or the horror story, as some people have. Whatever your story is or the oh-ho-hum story is related and directly coming from step number one. Most people think, "I can change my thoughts." I'm going to say good luck with that because that doesn't work. Thoughts are the 5th of 7 steps of how you do money. Steps 1, 2, 3, 4 all feed into 5. If you're trying to change it here at 5, which is a conscious mind activity, what happened to 1 to 4? They didn't change. They're going to always keep producing a number 5. You're always going to have those blocks.  
You need to go back to the very beginning, which are these things we've talked about, the false beliefs, limiting decisions, stuck emotions, conflicting parts. Strategies are another fun one, the process of how you do things. To go back and change them at the beginning, that will ripple through. It will automatically change your story. You will find yourself saying things or doing things or feeling things differently. I'm working with one client and she's tripled her income in six months. It's like she got this superpower persona because we've been working on this at the ground level. It's rippling through. The things she used to do that didn't make money, she doesn't do those anymore. She's like, "I'm doing this. I'm doing that." A new business I'm branding into is called Business Titans. She's saying, "I'm a tiny Titan." She only wants to play with other Titans. She's like, "I'm not playing in the kiddie pool anymore." It has this whole ramification and you will have that happy ending and the love story. 
This is also true with relationships. This whole thing about you can see what's going on in your mind, by what showing up in your life. It's like your mind is a movie projector and it's got a reel in there. Your life is the screen. Whatever the story is in the movie reel, whatever that story arc is, whatever those characters are, they are in the movie reel and they're showing up in your life. You know if you've got a story you like in your head based on what's happening in your life. It's not an immediate translation. There's momentum and things take a little time to change. Someone's got to get in there and change the reel. 
It's interesting because I think that we forget to see that those symptoms are outside of us. They are glaring right in our face with big bright lights on a big white screen showing us what's going on inside. If you're only going to play with Titans and you're noticing that your best friend is a cat lady, no offense to cat ladies, maybe the reel inside your head is different than what you think you want. This is true with relationships. That's how I started this whole conversation. The relationships that show up for you, whether it's your relationship with money, a guy or your children. Most relationships are being dictated by the reel that's in your head. 
The reel that's in your head has a starting point where this whole process started. It's the beginning of the movie. The beginning of the movie changes the trajectory. Every movie does not start the same way and the same story. How many times does Hollywood tell a love story? Boy meets girl, girl falls in love with the boy, boy and girl get married, and they live happily ever after. It's the same story, but there are different beginning and different characters. That beginning is what launches us into where we're going to go. I see that in relationships, in our health and with our money. 
One of the newest realizations that people are having is that collaboration, which is relationships. It's a fancy word, relationship, but collaborations in business are the new juicy carrot. In collaborations, you can get a lot more done in a lot less time, with a lot less money, and you can have more fun. You're going to leverage lots of resources. You can potentially make more money as well, depending on how you're leveraging those relationships into a collaboration. 
I love that in business, we're moving more towards collaboration rather than, "If I win, you have to lose," which is the old way of doing business. A lot of the big business titans from the old world still built their businesses that way, but the new generation of businesses are realizing that collaboration is the key. I love it because we're leading the world in that. You see it even in our small businesses. Collaboration with your tenant, vendors, sales, real estate agent, and all of those things. The better those relationships, the better the business is. 
The business is all about relationships. You are not going to have a great business unless you have great relationships. That's according to Olympia Hostler. That's what I believe. 
Let's talk about what we're going to be continuing on with EXTRA. In EXTRA, we would talk about how I can avoid being sucked into the busyness and distraction vortex to start supercharging my success. I'm excited about having that conversation in EXTRA. Could you tell us how the ladies can reach you? 
I am so available at [email protected]. My phone number is (917) 288-7477. Do you want me to talk about the quiz now? 
Tell us about the free gift. 
The free gift is a quiz. Who doesn't love a quiz? They are so much fun. You get to take this quiz at MyMoneyBlocks.com. Within two minutes you're going to know your relationship with money and what's standing in your way. Have fun. 
Are you ready for our three rapid-fire questions? 
I'm ready. Let's go. 
Give us one super tip on getting started investing in real estate. 
I'm going to address this as investing in a business. A super tip is to treat your time like it's money. Think about your time as I call them money blocks. How are you going to spend and invest your time? Treat it like it's money. 
What's one strategy for being successful in real estate investing? 
That would be to make sure that you know with as much certainty as you can what your ROI is going to be or can be. Weigh that against your risks because all of life is a risk–reward. Whether it's business, real estate or relationships. It doesn't matter what it is. Make sure that that ROI is what you think it's going to be. Within your risk tolerance, whatever that is, that might change, but it's within what it is now. 
What is one daily practice that contributes to your personal success? 
Every morning, when I go in the shower, I sing a James Brown song. I dance and get the whole thing going. If for some reason, I haven't done that, which is rare like if I'm in a super hurry, I miss it. I have different energy for the whole day. 
This has been so much fun. Thank you for joining us for this portion of the show. 
You're welcome. Thank you for having me. I had a blast. 
I can't wait to talk about how to get out of the distraction and busyness vortex and supercharge our business. Ladies, if you are not subscribed to EXTRA but would like to be, go to RealEstateInvestingForWomenExtra.com. The first seven days are free. You can get this EXTRA. You can get a bunch of others, and then you can decide if it's for you. Go check it out. For those of you that are leaving Olympia and me, thank you so much for joining us for this portion of the show. We look forward to seeing you next time. Until then, remember, goals without action are just dreams. Get out there, take action and create the life your heart deeply desires. 
Important Links
About Olympia Hostler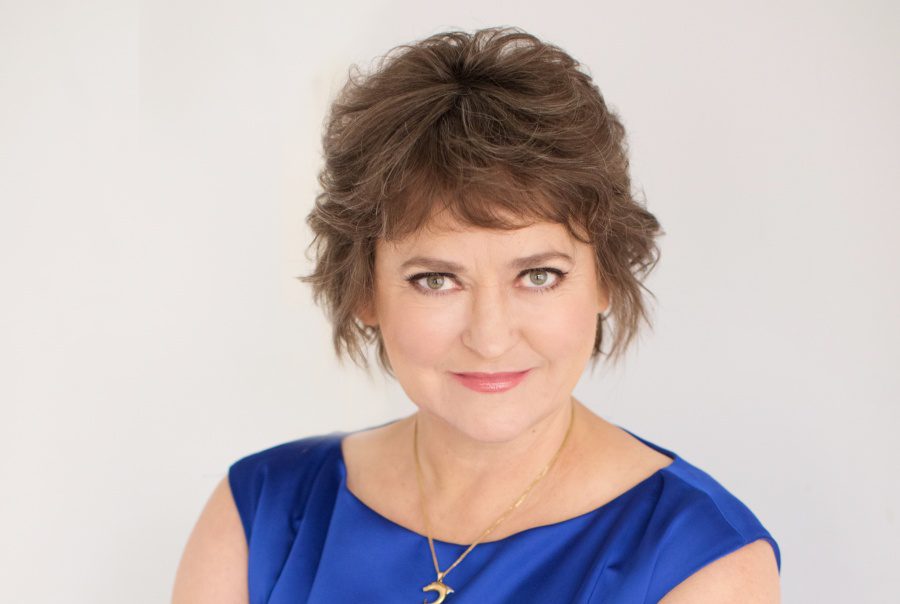 Olympia works with 6 and 7 Figure plateaued business owners who are overworked and want more. She helps them radically 2X their income, fun and freedom.
Olympia loves working and playing in the realms of millions and billions. She is an award-winning business consultant and speaker, a Fortune 500 companies' partner, and a leader of the highest national security programs worth billions of dollars.
By the age of 33, she was a corporate executive leading multi-billion dollar programs – making more than $50 Million in sales, facilitating sales of more than $10 Billion and leading teams of up to 100 people.
As The Queen Of Wealth, Olympia liberates business owners' freedom to scale their companies and fast forward their success without working harder or longer on their fastest path to freedom of time & money!
Since she earned her MBA in Finance, she specializes in business growth strategy that fast tracks success while also having a joyful and meaningful life. Olympia works with high-achieving business owners who seek success and wealth to make a difference for themselves and humanity.
Love the show? Subscribe, rate, review, and share!
Join the Real Estate Investing for Women Community today:
______________________________________
To listen to the EXTRA portion of this show go to RealEstateInvestingForWomenExtra.com
To see this program in video:
Search on Roku for Real Estate Investing 4 Women or go to this link: https://blissfulinvestor.com/biroku
On YouTube go to Real Estate Investing for Women
Moneeka Sawyer is often described as one of the most blissful people you will ever meet.   She has been investing in Real Estate for over 20 years, so has been through all the different cycles of the market.  Still, she has turned $10,000 into over $5,000,000, working only 5-10 hours per MONTH with very little stress.
While building her multi-million dollar business, she has traveled to over 55 countries, dances every single day, supports causes that are important to her, and spends lots of time with her husband of over 20 years.
She is the international best-selling author of the multiple award-winning books "Choose Bliss: The Power and Practice of Joy and Contentment" and "Real Estate Investing for Women: Expert Conversations to Increase Wealth and Happiness the Blissful Way."
Moneeka has been featured on stages including Carnegie Hall and Nasdaq, radio, podcasts such as Achieve Your Goals with Hal Elrod,  and TV stations including ABC, CBS, FOX, and the CW, impacting over 150 million people.